Tú a Tú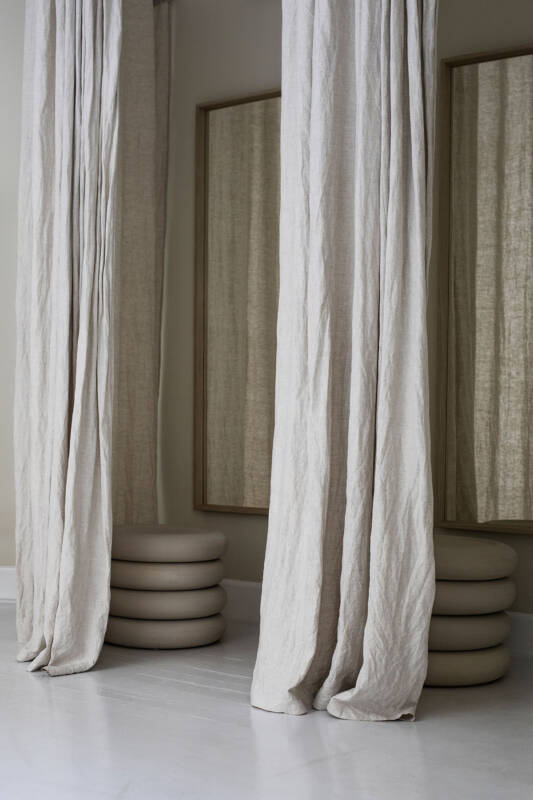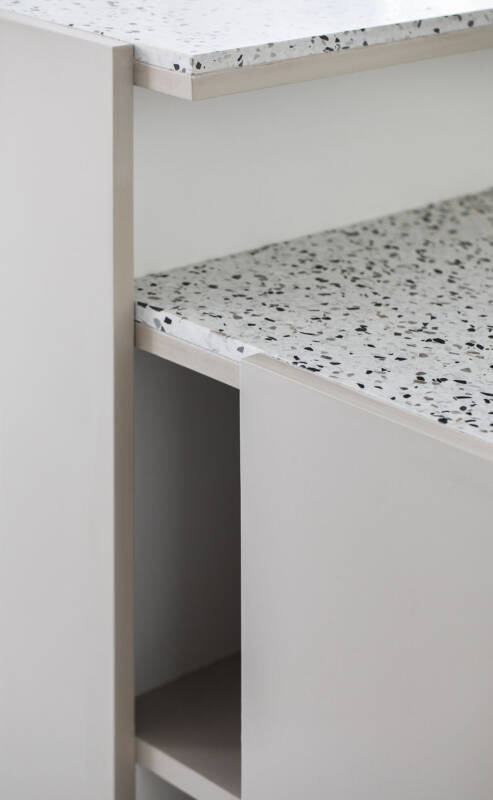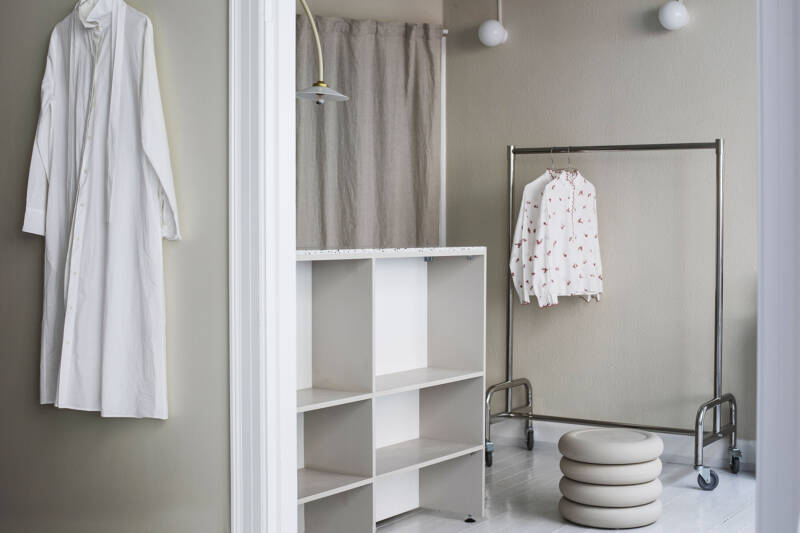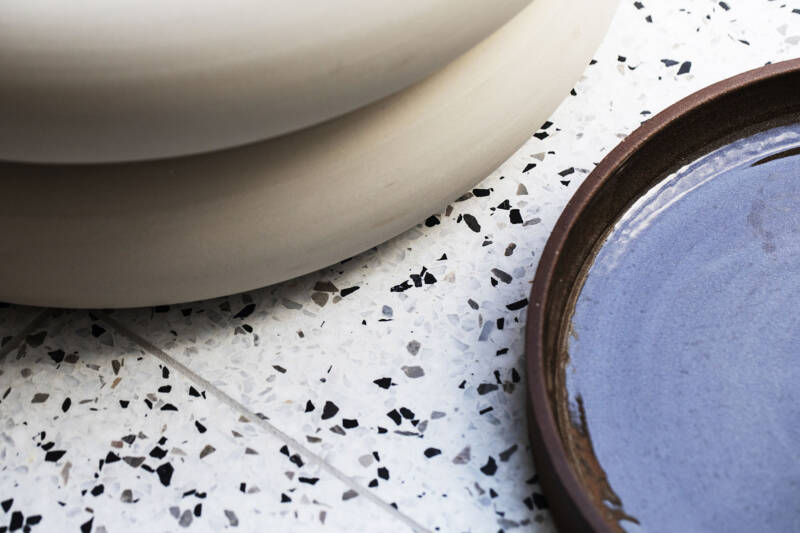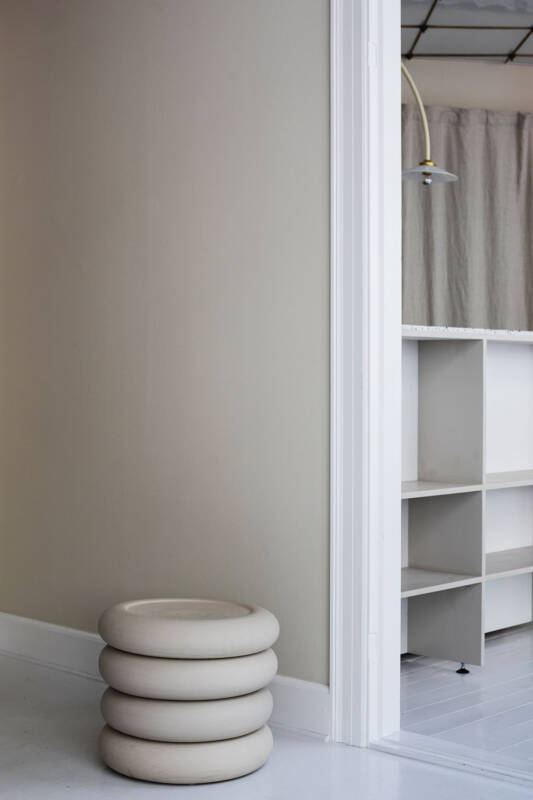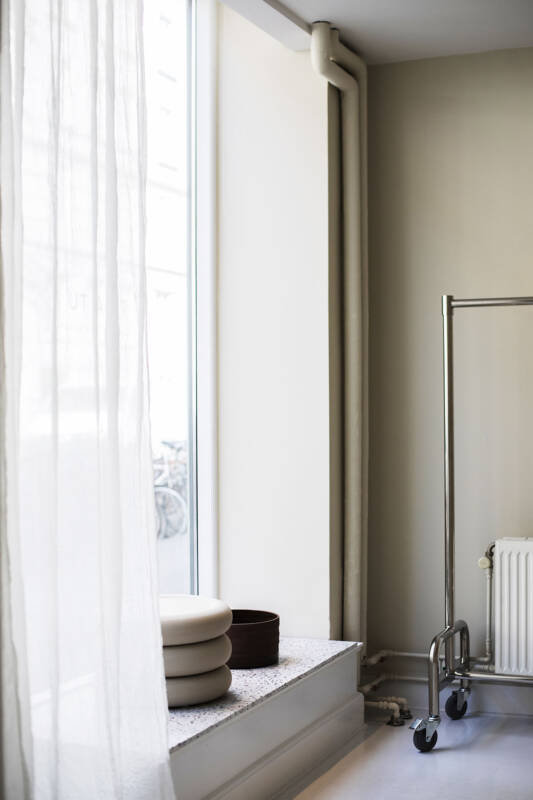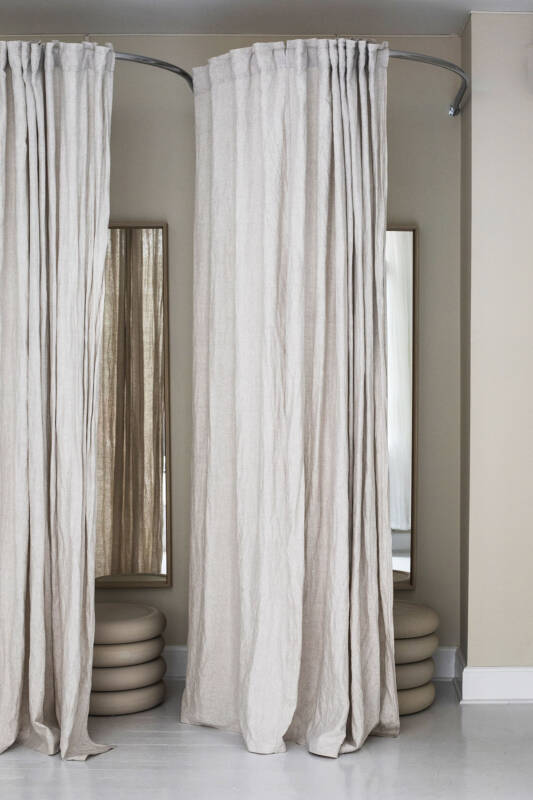 A spatial version of MBADV's beige universe composed of carefully selected natural materials – linnen, stoneware, terrazzo.Together, the materials, lighting and furniture create a harmonious interior focusing on the importance of the understated detail.
Typologies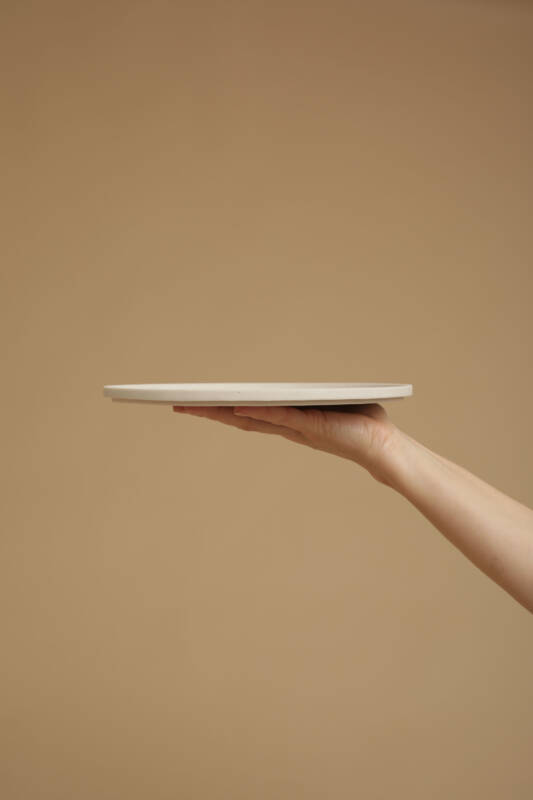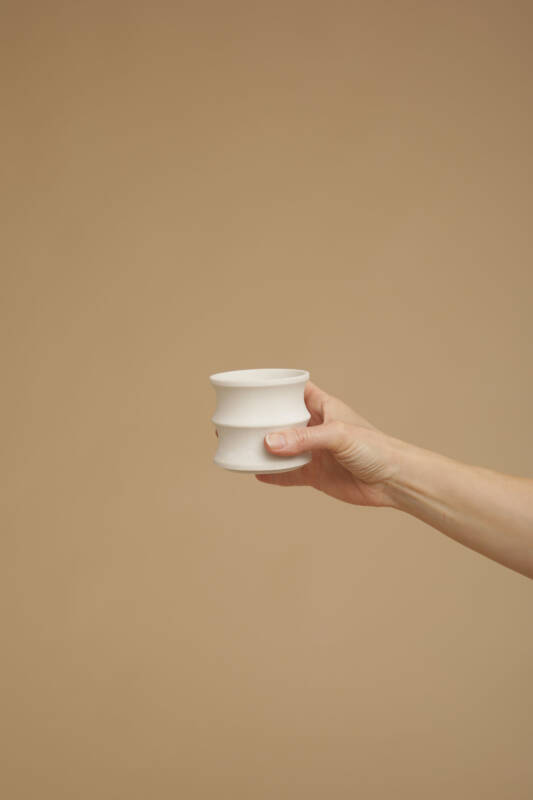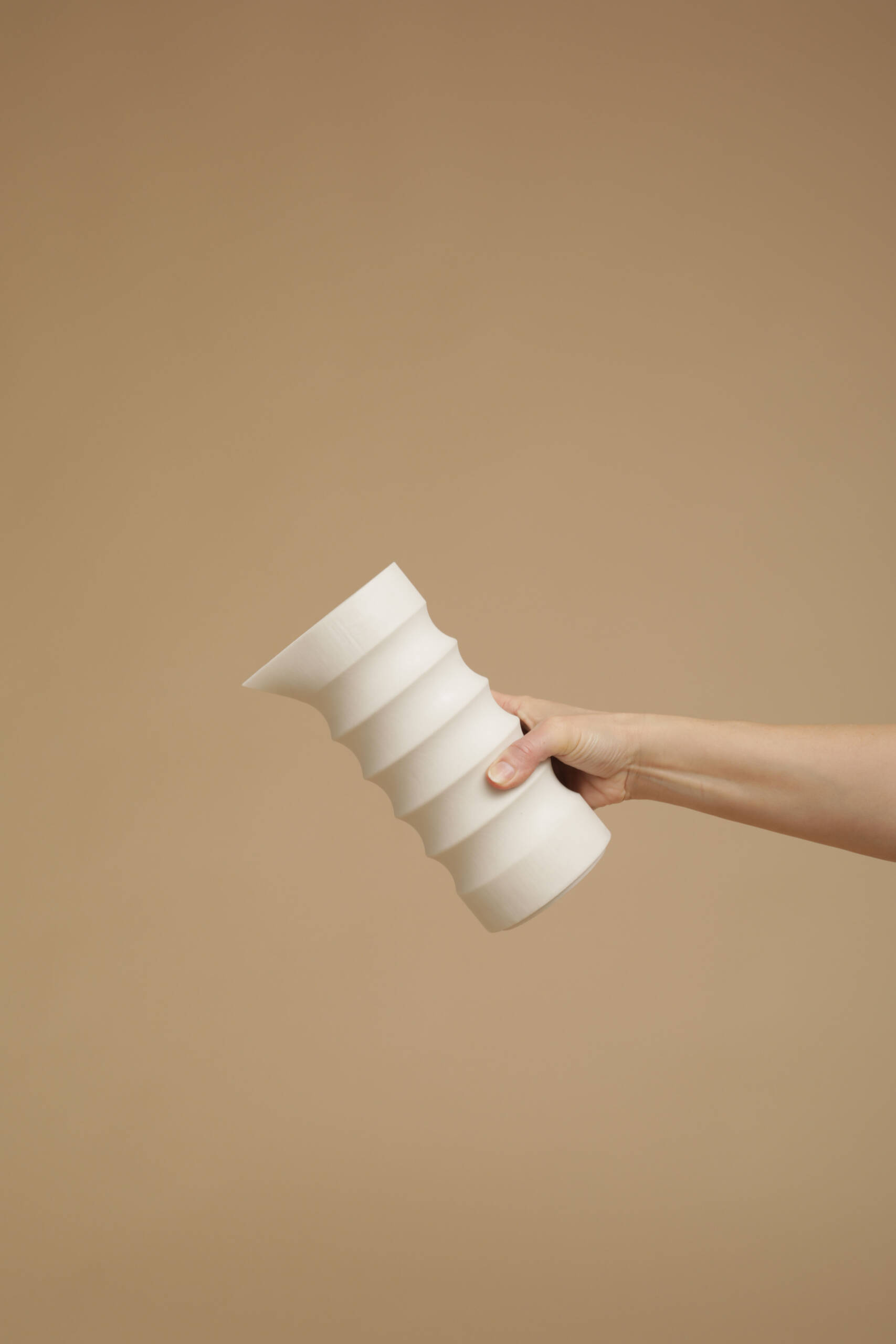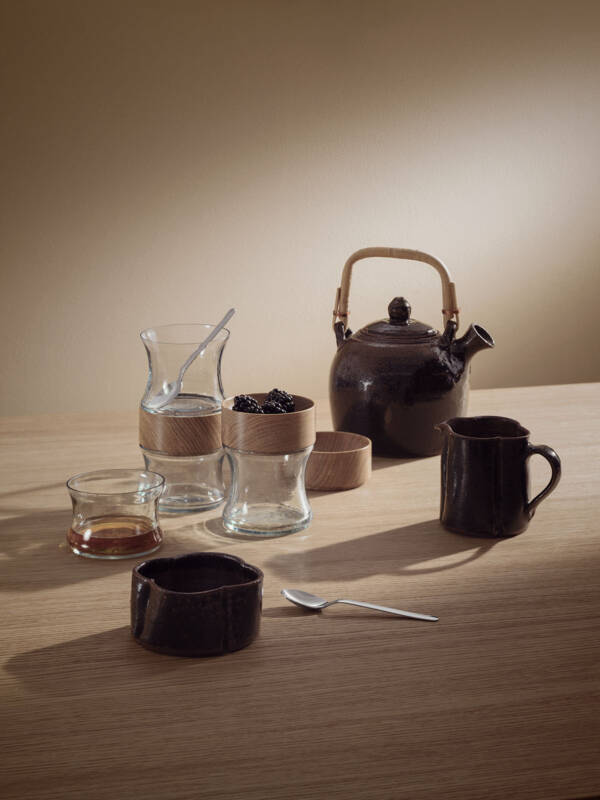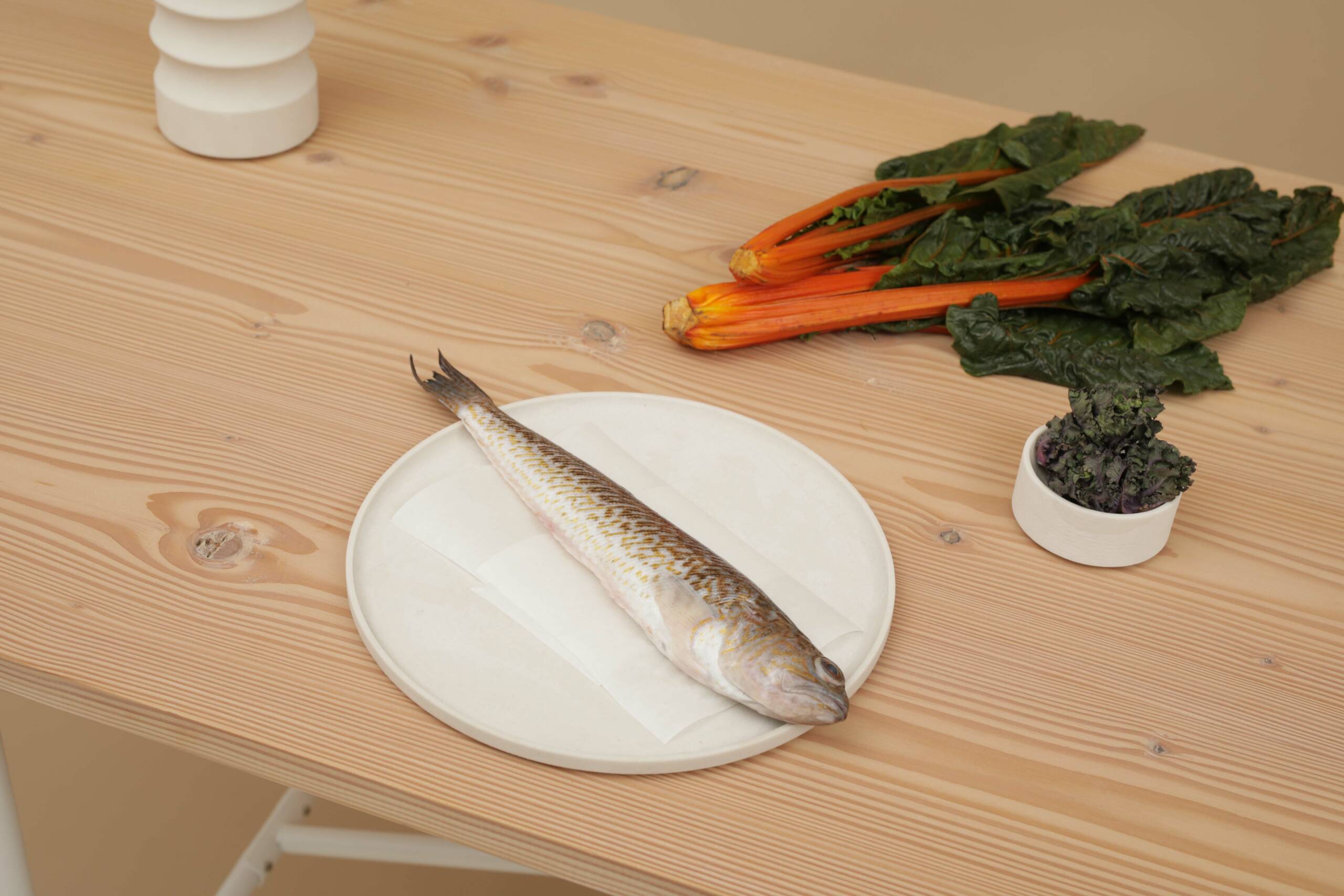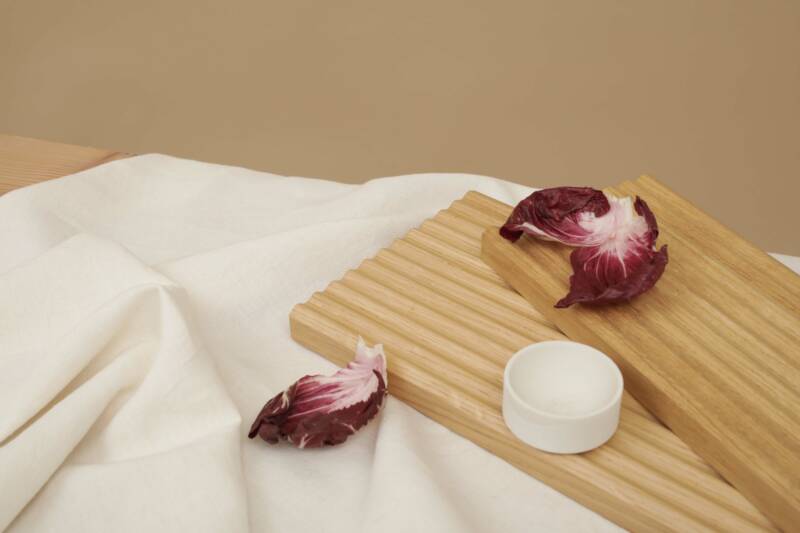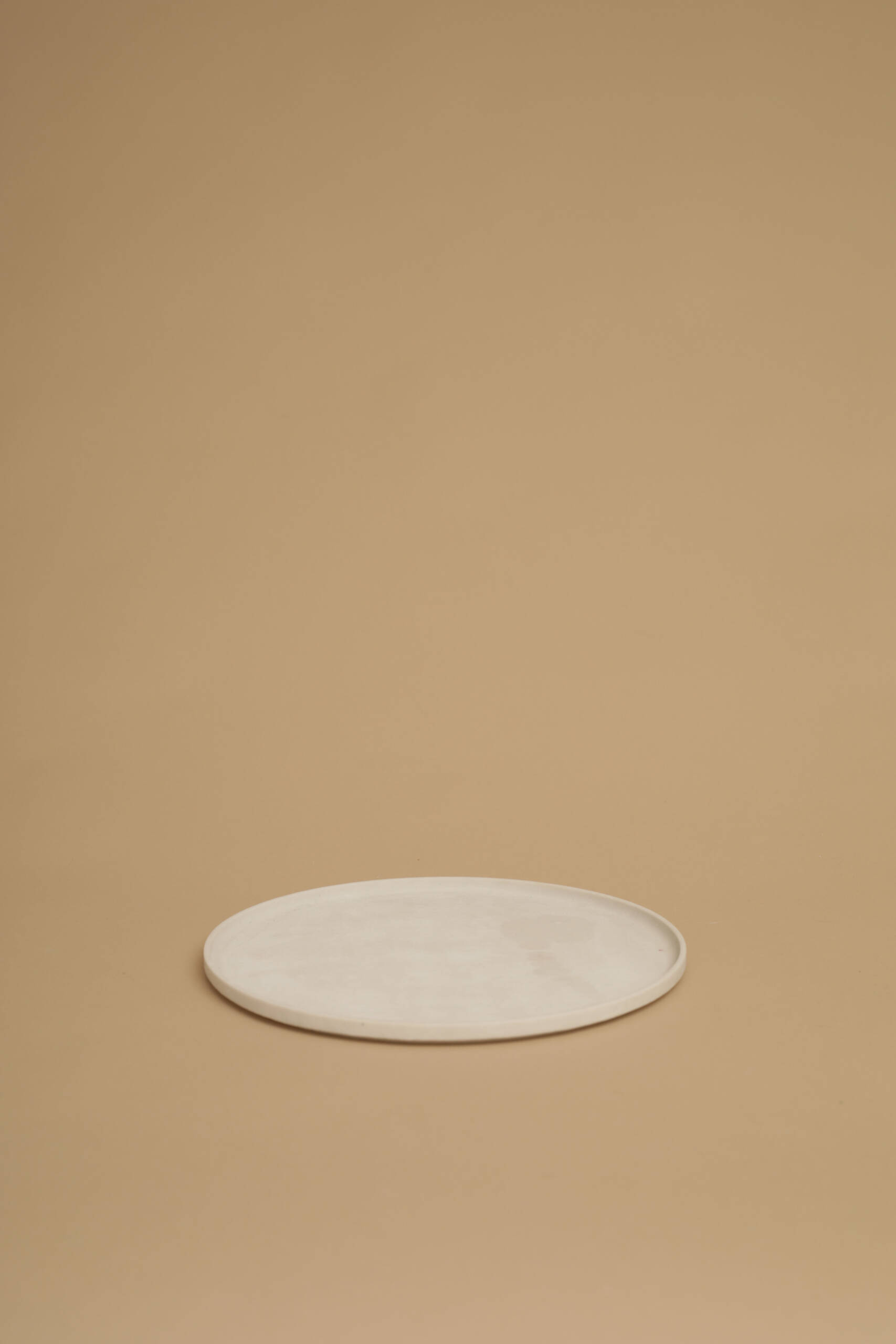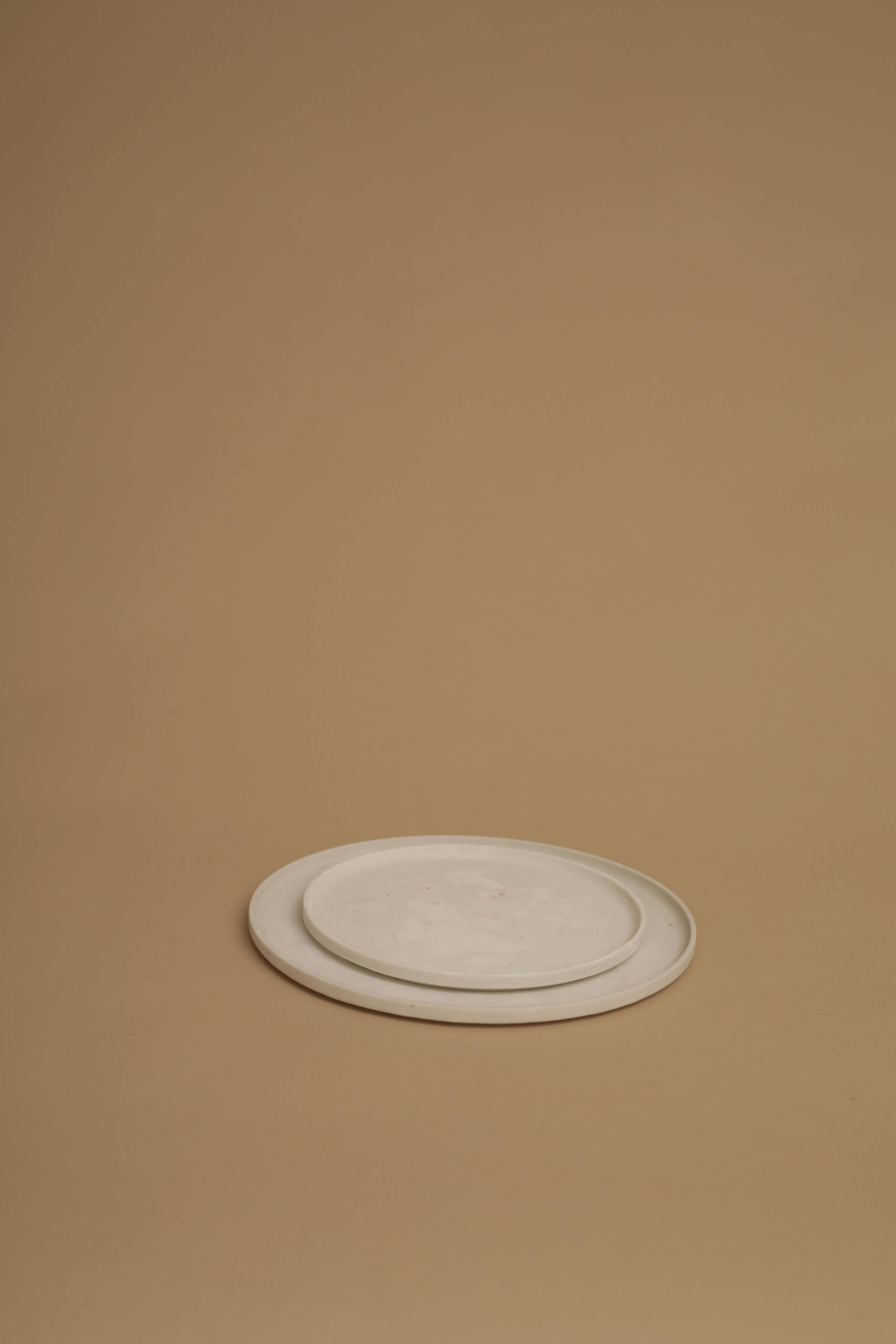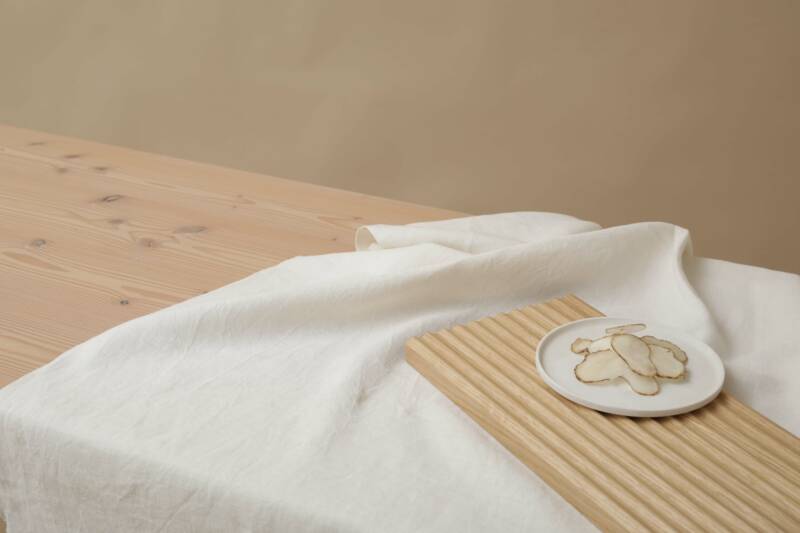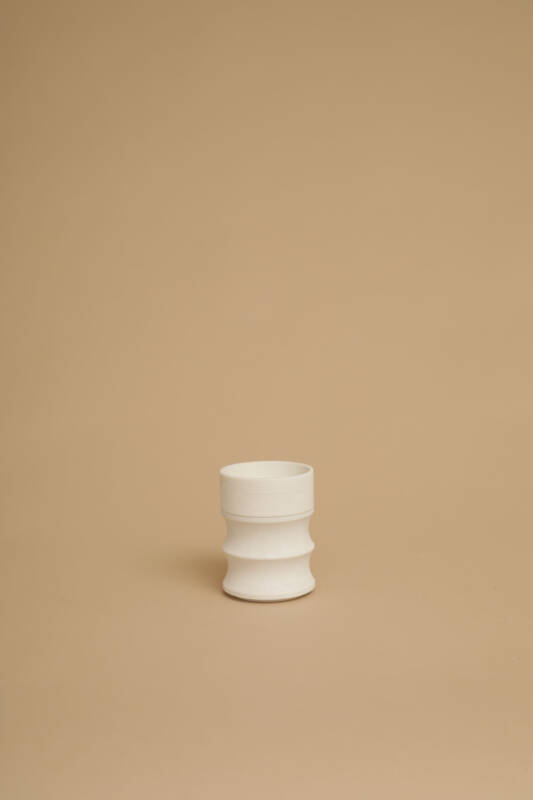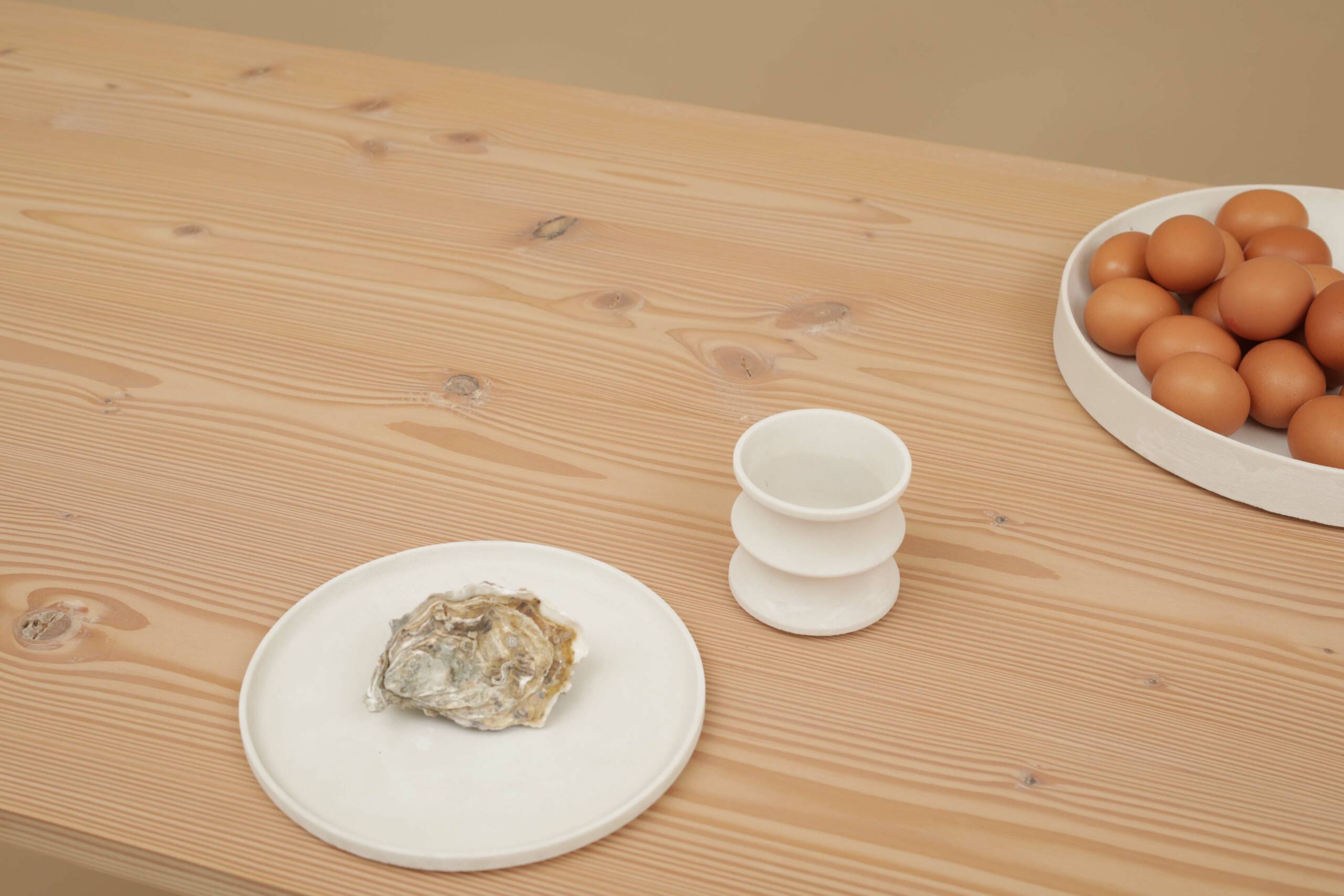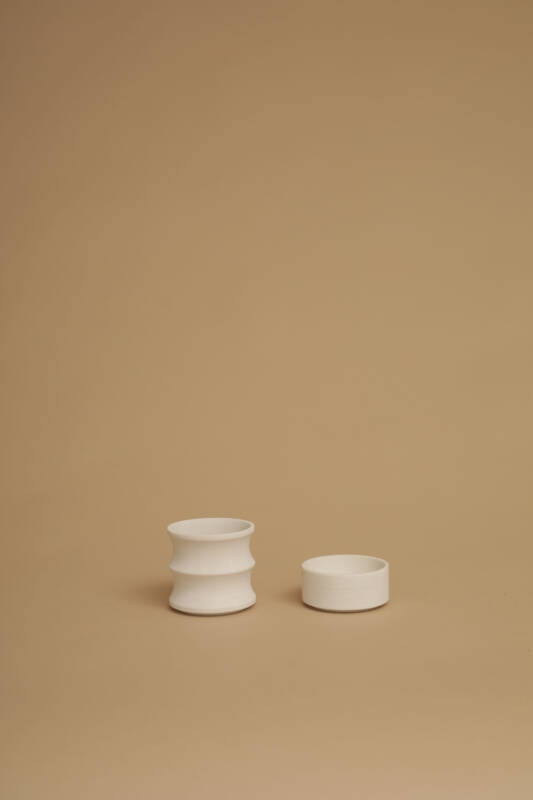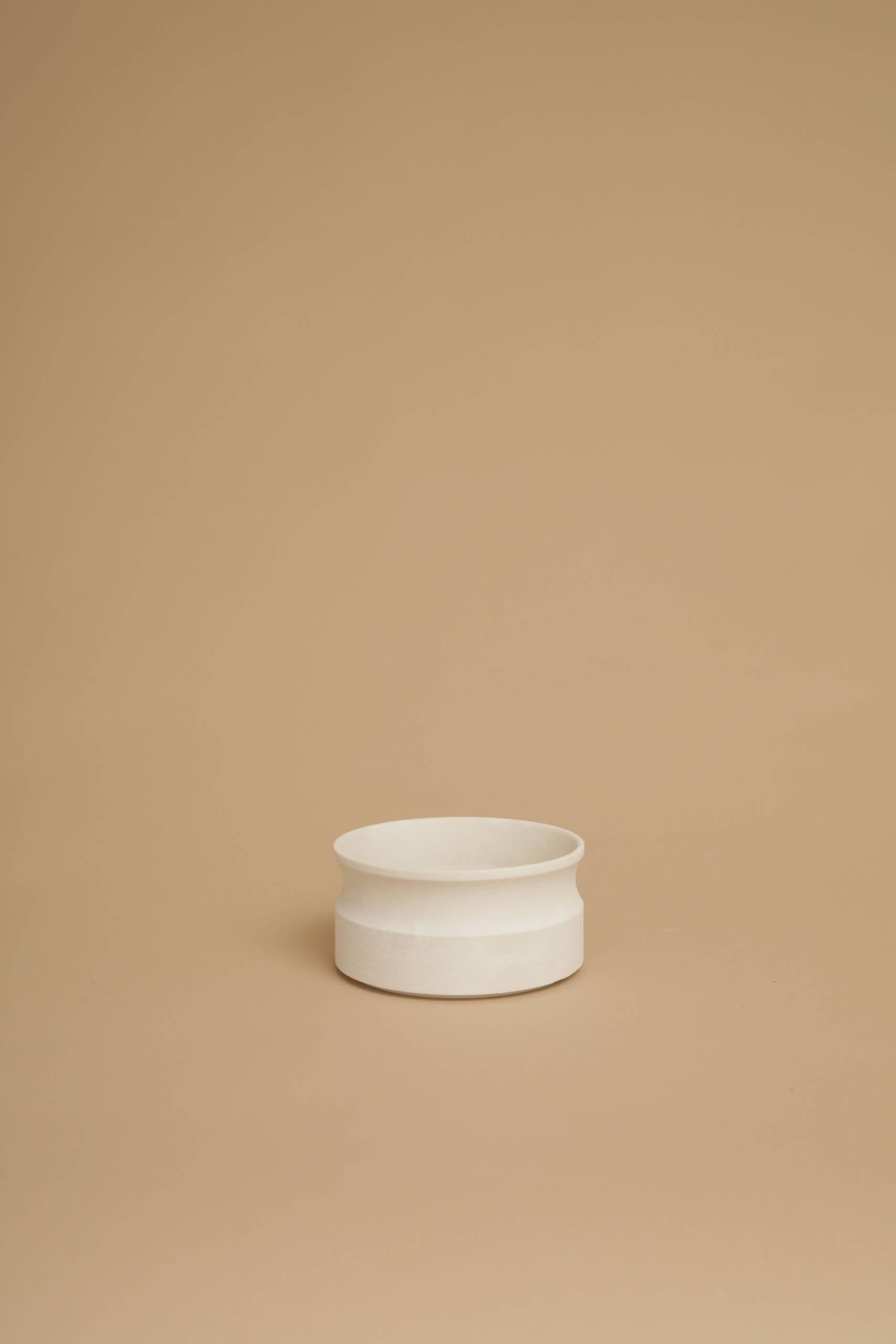 Architecture speaks of typologies as systematic divisions of differences and similarities. This rationale is the starting point for the series Typologies. The meeting between materials and their varying forms is the framework for the modular stackable elements that can be combined and configured in many different ways, like small sculptural columns on a dining table.
In Dialogue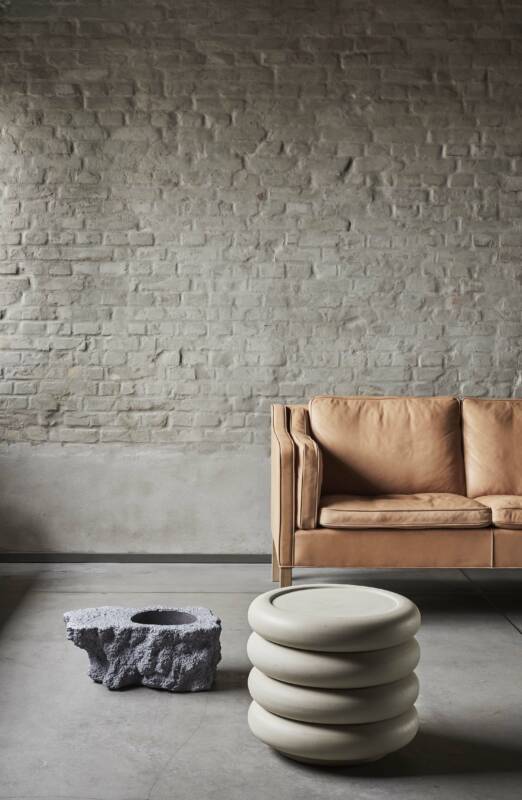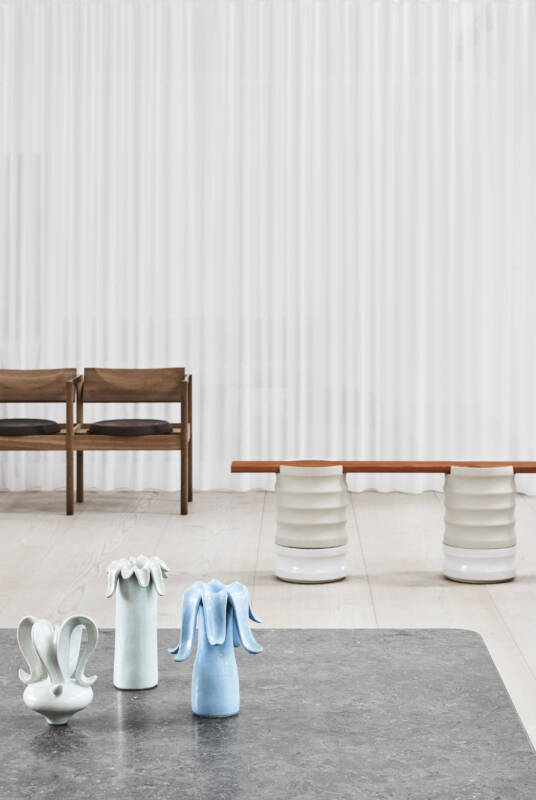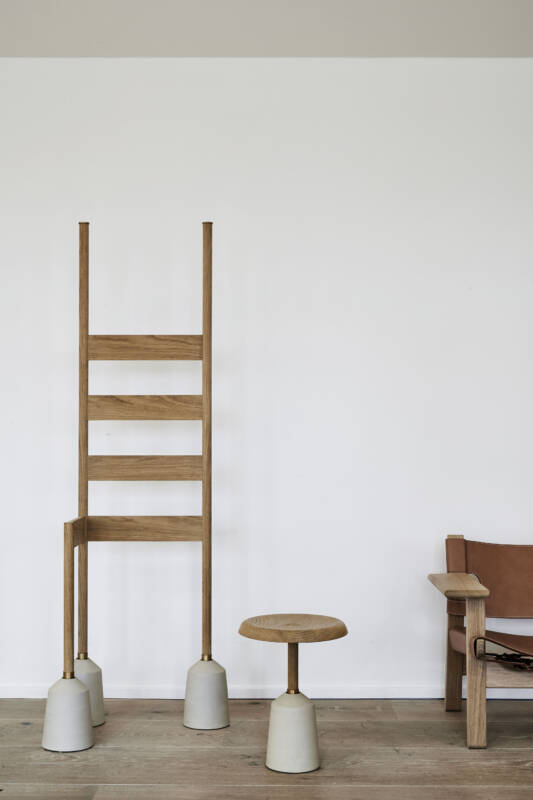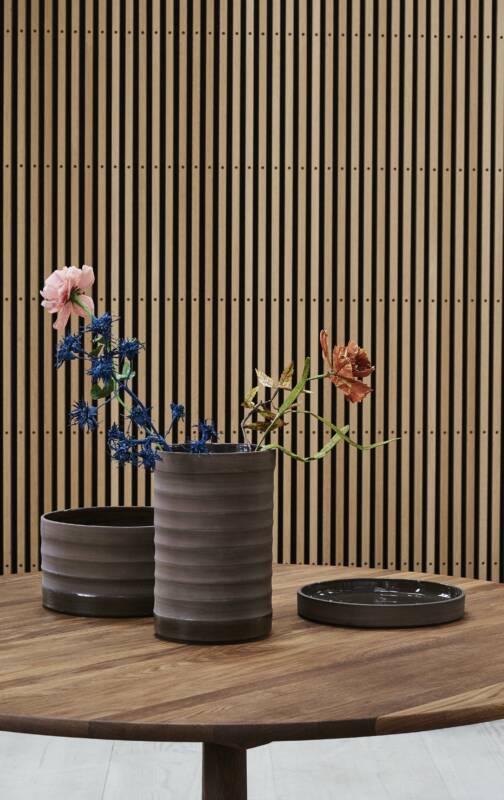 'In Dialogue' is a group exhibition exploring the heritage and legacy of Fredericia Furniture's classic Danish designs. A selection of Danish and international artists and designers engage in conversation across rooms and surfaces, disciplines and generations, materials and perspective. Sculptural, organic shapes and an emphasis on materiality and structure are pervasive elements in the exhibited works, furthering the scope and scale of this dialogue.
The works share the notion of quality, craftsmanship and the aim to create and nourish a sensuous bond between object and viewer, a sentiment which is also distinct in the Fredericia Furniture brand.
Materials
Stoneware, oak, douglas pine

Curator
Relief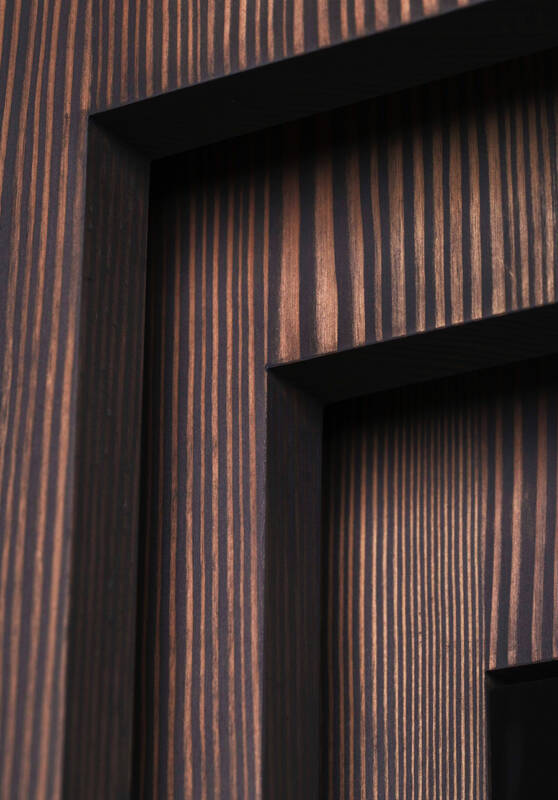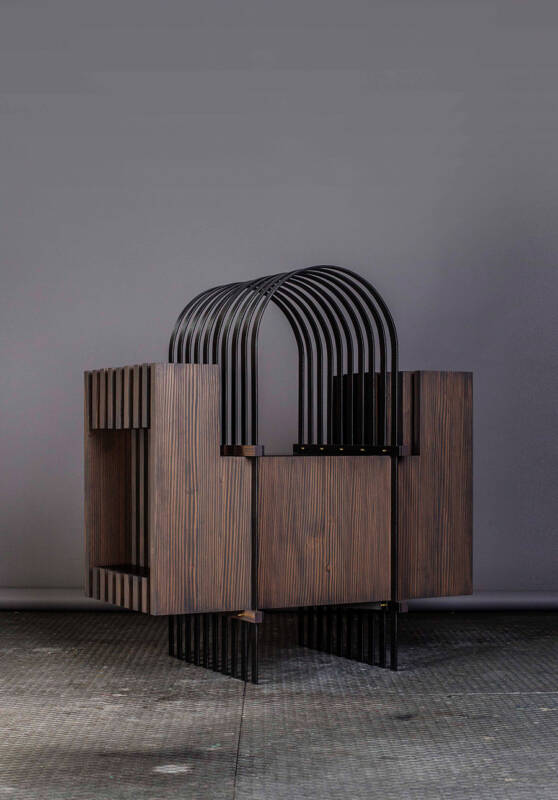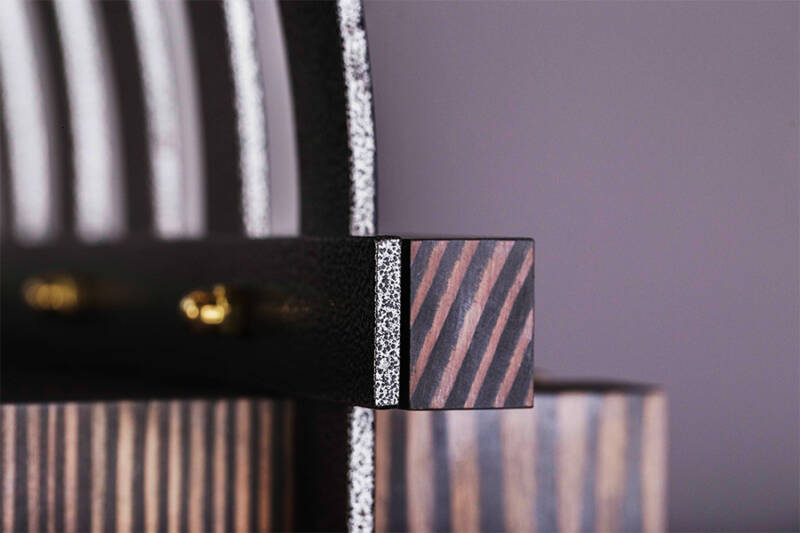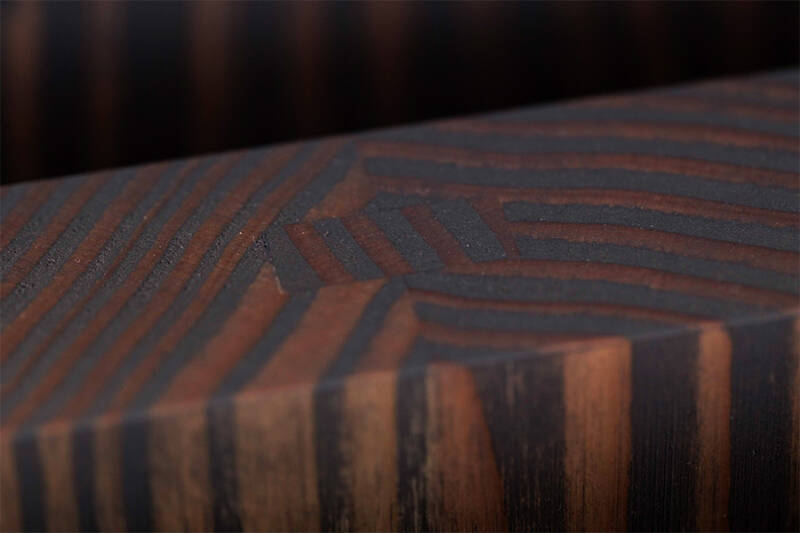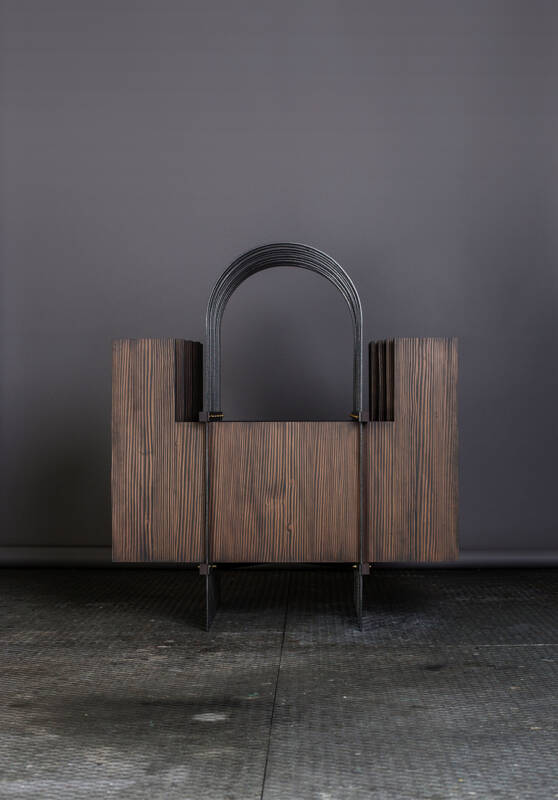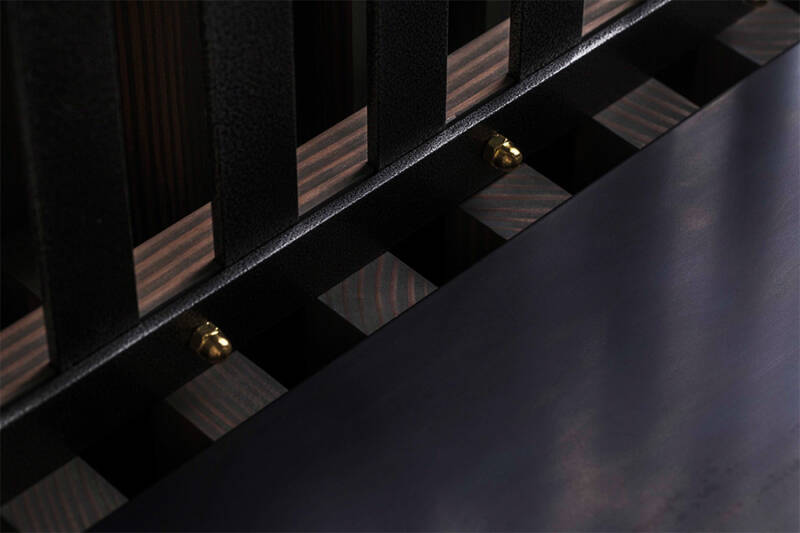 Each piece of furniture consists of a number of rolled hammertoned steel arches that hold the stained Douglas Pine plates with varying cuts. The arches and plates are retained by a unique assembly bracket in wood, steel and brass fittings. Together, these cuts create cavities of various sizes, in which there is room for storage in the custom made burnished steel shelves or drawers. In the course of the material, a multitude of poetical reliefs are formed. The repetition, dimensions and rhythm of the materials play with the perspective and the design of the two cabinets explores different degrees of functionality.
These pieces investigates function of furniture and the space they occupy, as well as the creation of a piece of furniture with the highest quality and detailing craftsmanship. We are fascinated by a scenographic whole, based on a premise of creating furniture, to be perceived, experienced and surprise from every angle, in order to give the viewer an aesthetic and distinctive narrative about both architecture, furniture design and craftsmanship.
Materials
Stained Douglas Pine, Burnised Steel, Hammertoned Steel, Brass

Comissioned by
Sponsor
Bricks of Time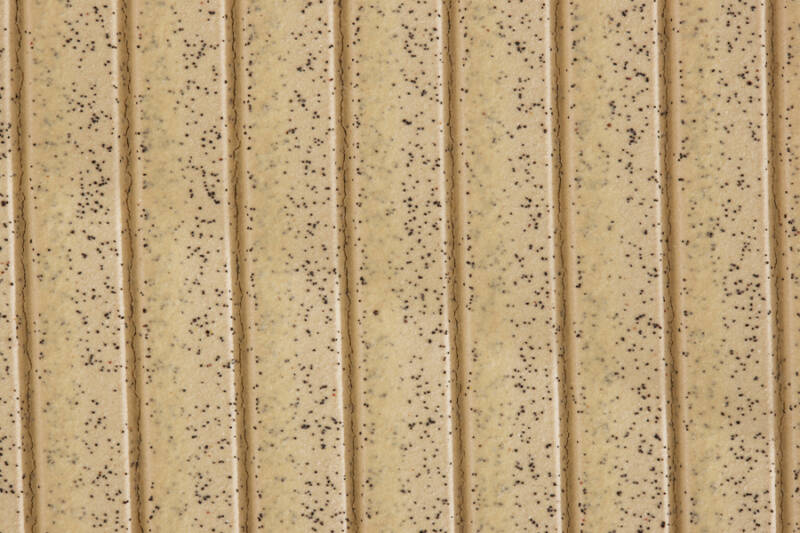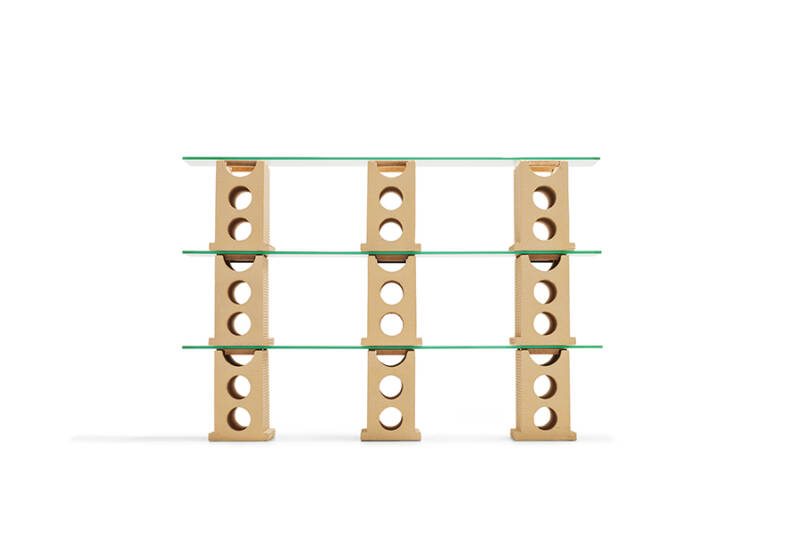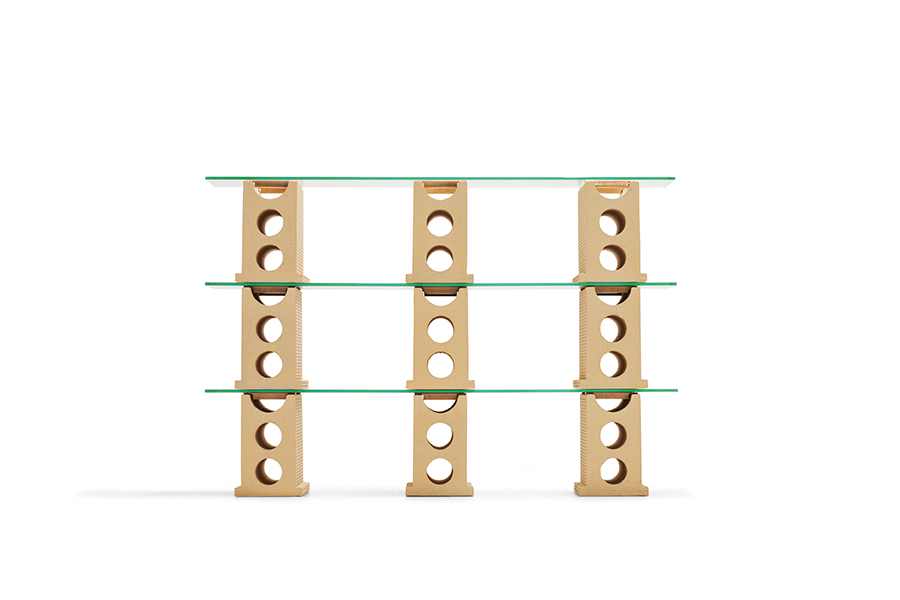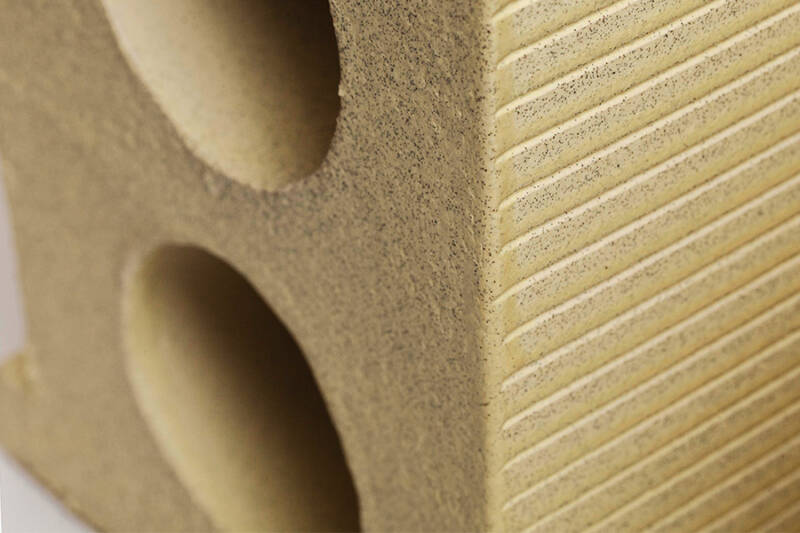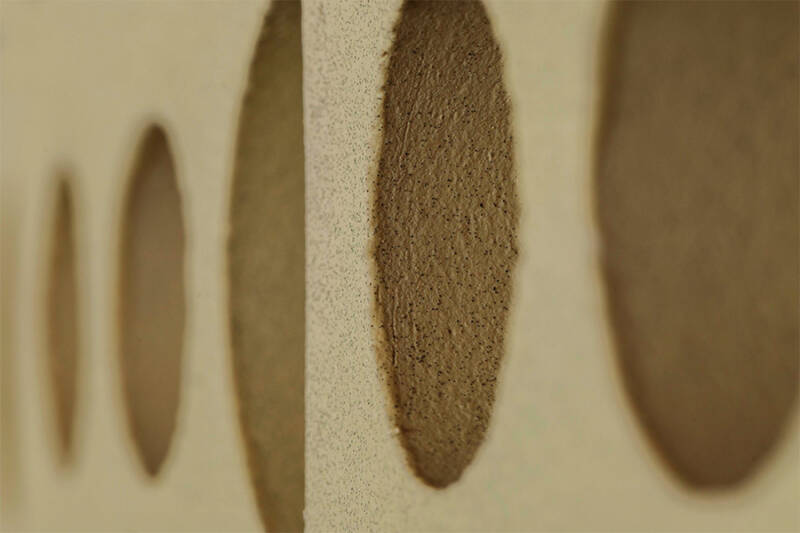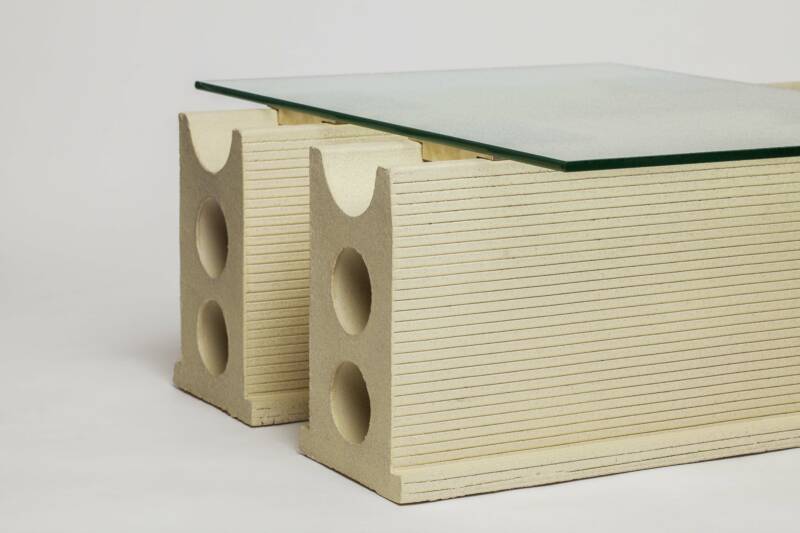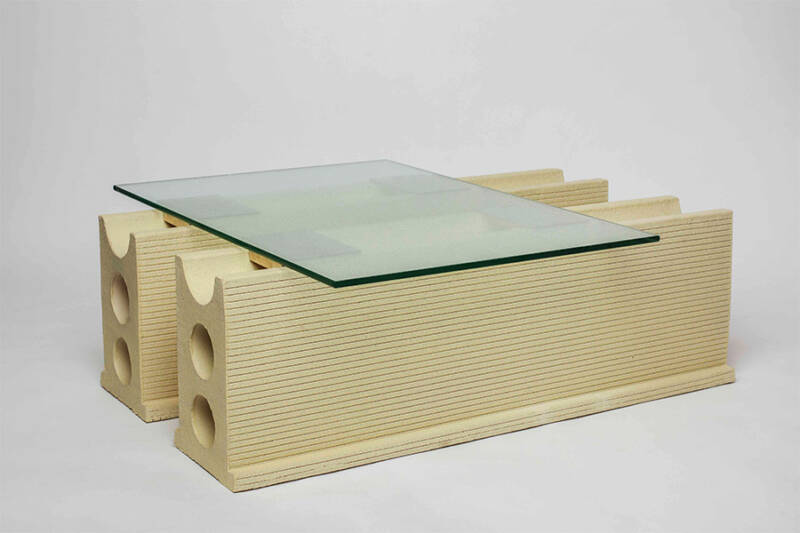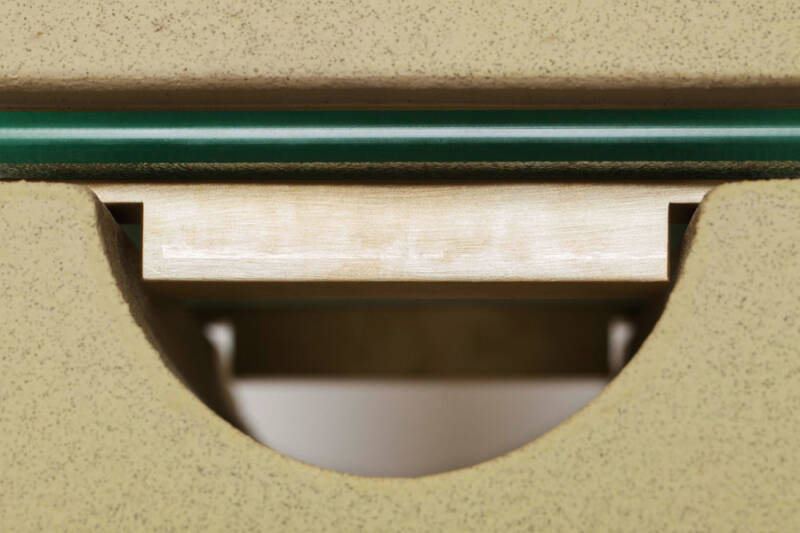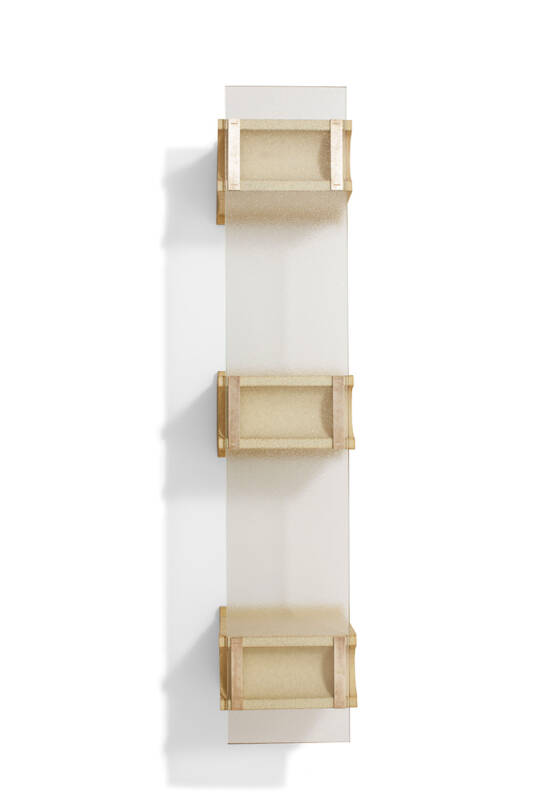 'Bricks of Time' experiments with function, form and materials that borrow references from the world of furniture-making. The ceramic elements are produced on an old extrusion machine once used to manufacture traditional building bricks.
For this project, the machine was fitted with a custom-made mouthpiece (nozzle) that gives the elements their unique shape. After extrusion, the serially produced ceramic elements are finished by hand and stacked in combination with glass sheets to create two different constructions. The extruded elements can be seen as a material expression of the time it takes to produce a brick of a given length; conversely, a given length reflects a given time interval. The time aspect is further highlighted by the lengthwise lines imprinted during the extrusion process, resembling seismographic
lines on a roll of paper.
2017
Materials
Extruded stoneware, brass, glass

Curator
Keramiske Strukturer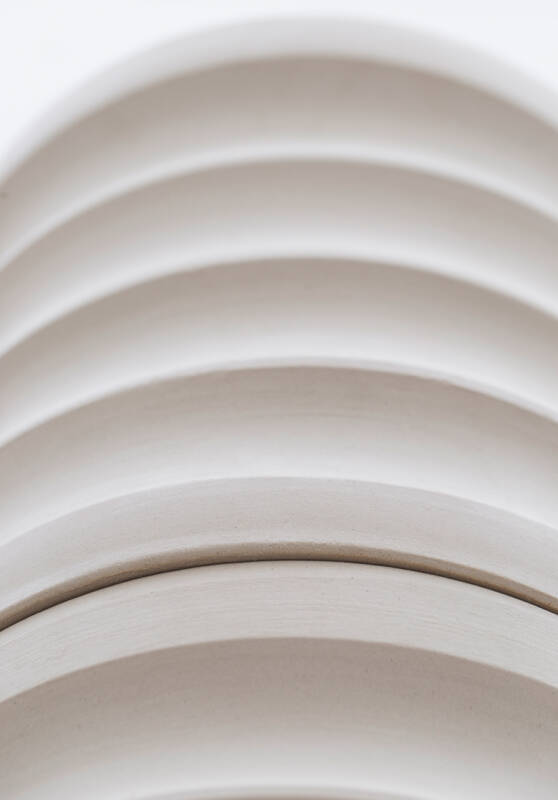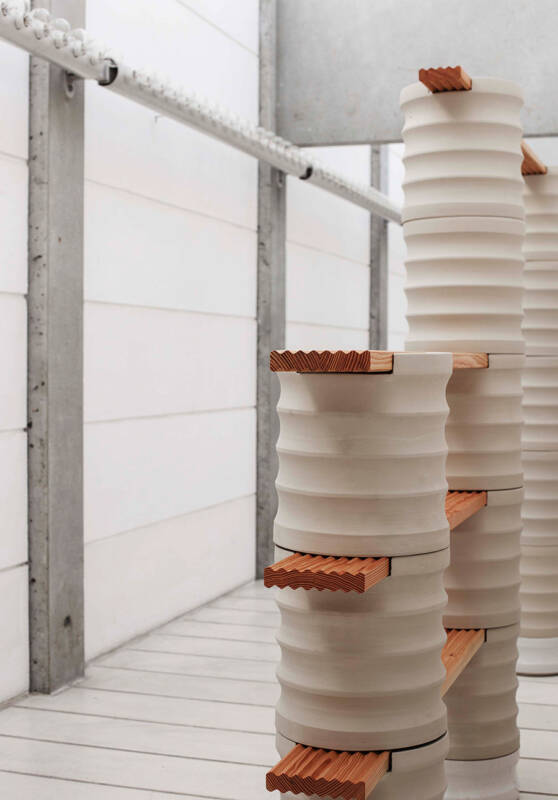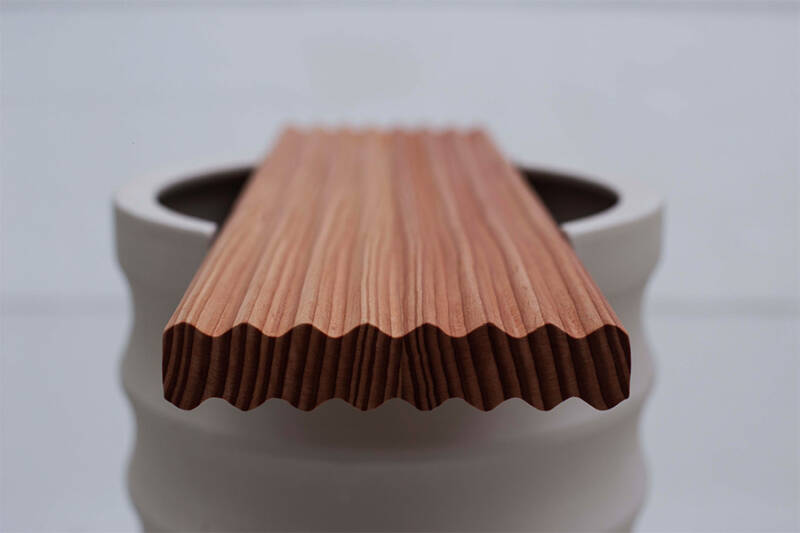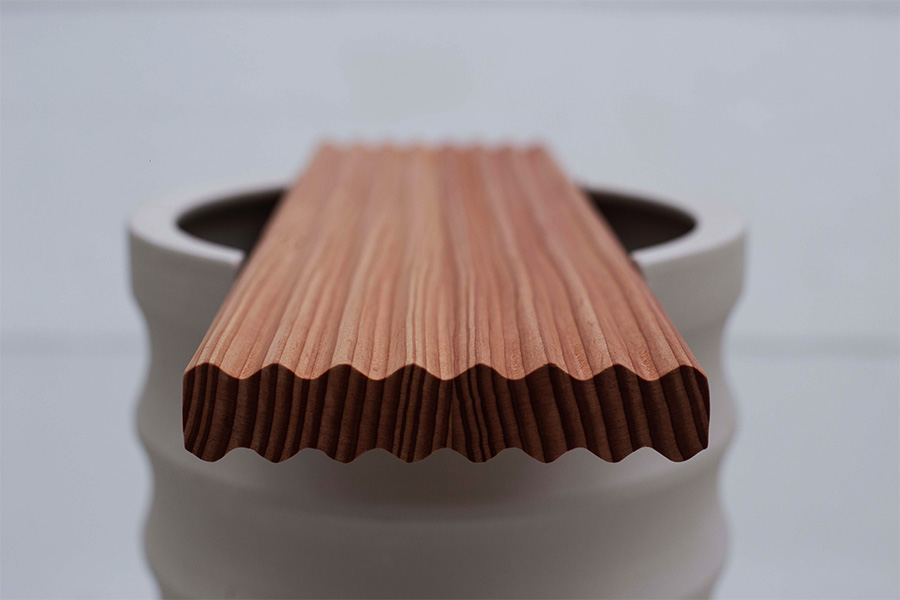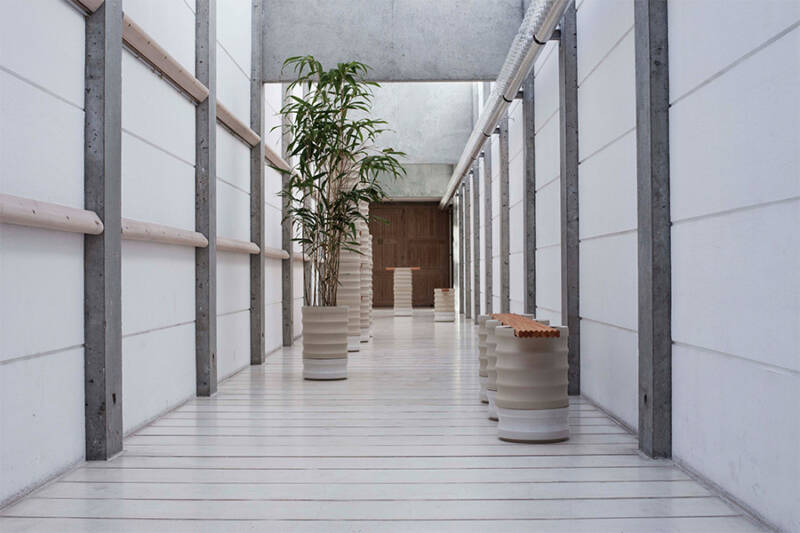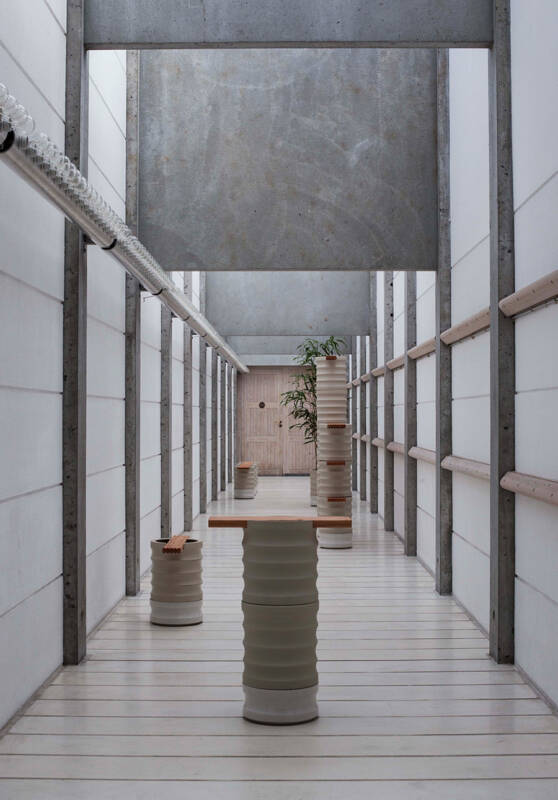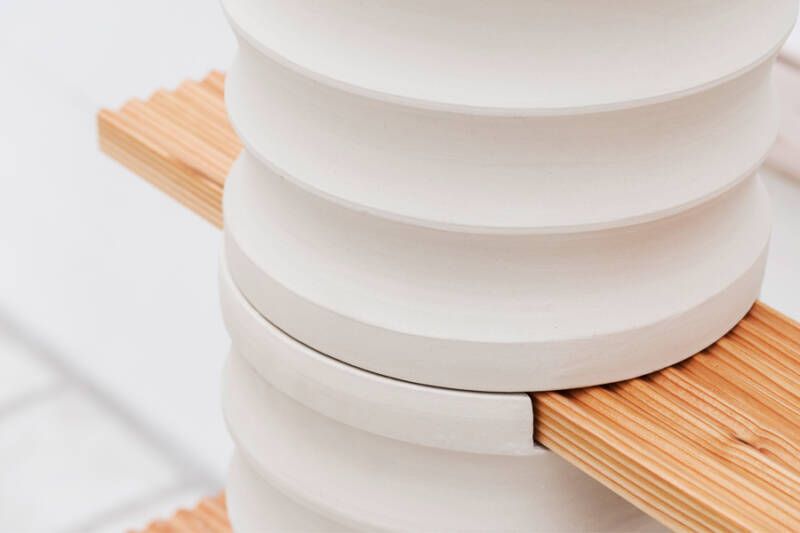 Ceramic Structures' is inspired by columns – as a modular construction system.
The system consists of three elements; a glazed base, a building block and a building block with a slot, that can hold a transverse wooden beam. These can be configured in different ways. 'Ceramic Structures' is hand-thrown stoneware elements and Douglas pine beams. You are allowed to sense the process. 'Ceramic Structures' mimes doorways and furniture without necessarily being that, while the building blocks relate to stackable stoneware pots. The visually poetic and spacious sculptures relate in scale directly to the body and radiate calmness, movement and balance.
The Seating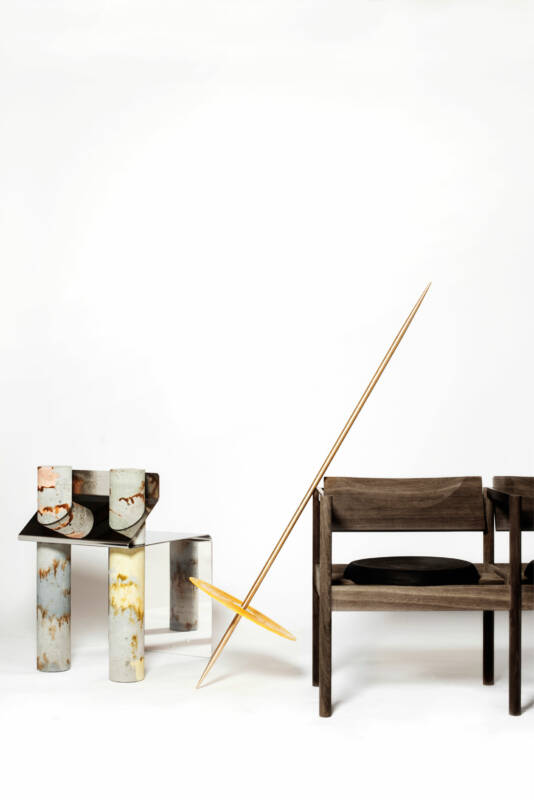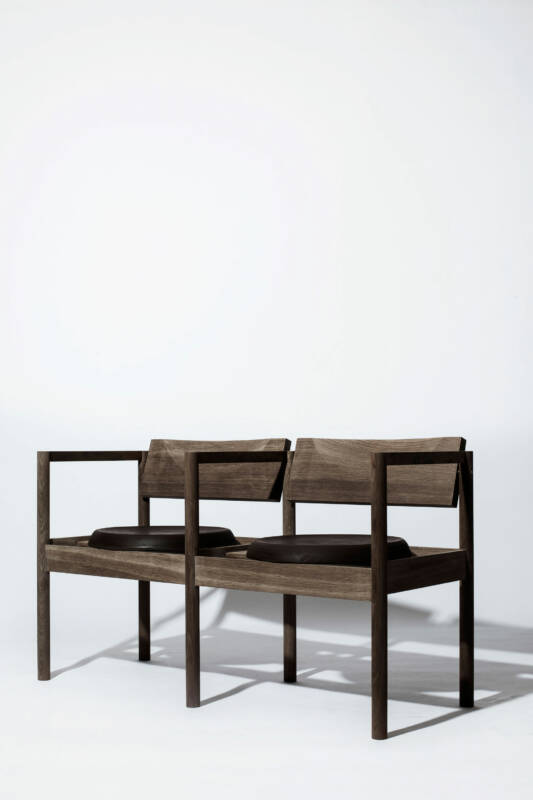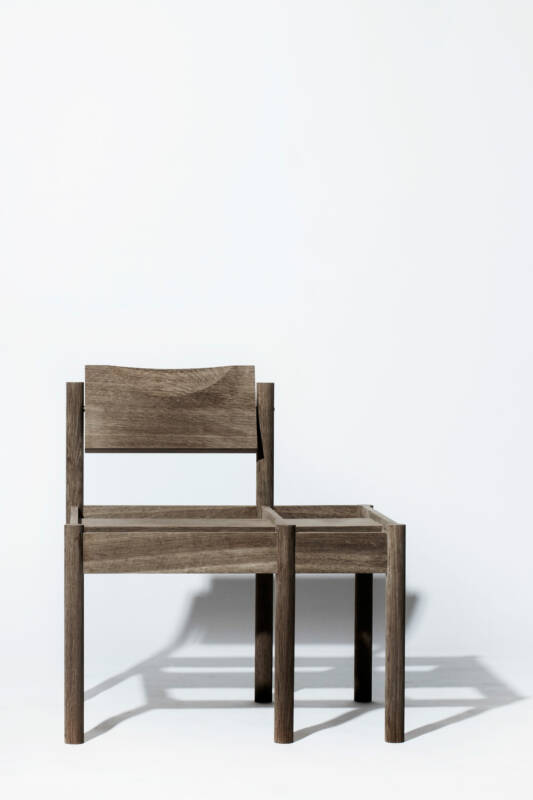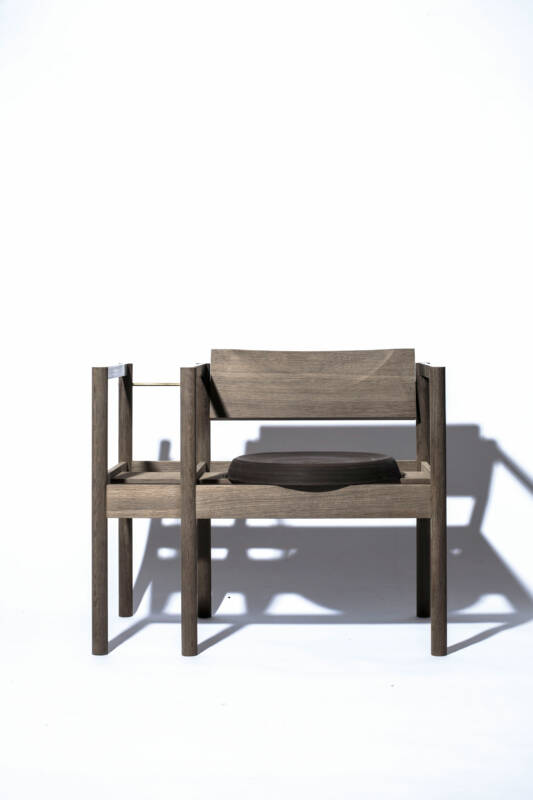 The group exhibition If it's a Chair reformulates, amplifies and extends the idea of Danish design showcasing objects by Kasper Kjeldgaard, Pettersen & Hein, Maria Bruun & Anne Dorthe Vester that might as well be labeled art. The emphasis being on materials and form, the works on view intervene with and transform the space in various ways.
Refining materials – concrete, oak, brass and steel – into vibrant elements constituting objects such as a bench, a stool, mirror or a mobile, the works shown are poetic, sensuous and fragile despite the masculinity of the materials. Exploring what happens when art operates out of a functional parameter and design works as a mere sculptural presence in a room they all continuously strive towards the freedom that allows the object rather than the definition to be the center of attention. The works of minimalism cut to the core and focused on industrially manufactured materials and spatiality as a counterpart to the personal and gestural expression of modernism. These physical manifestations in open space involved the audience without referring to any specific subjective truth letting the object claim its own interpretation. Donald Judd's strict dichotomy relates to Richard Artschwager's insisting on letting the viewer determine whether his works should be used or observed. Whereas Judd's opinions quickly appeared conservative, Artschwager was far more open in his interpretation, which can be read in his quote "If you sit on it, it is a chair. If you walk around it and look at it, it is a sculpture".
Materials
Smoked oak, bras, stoneware

Curator
Heavy Stack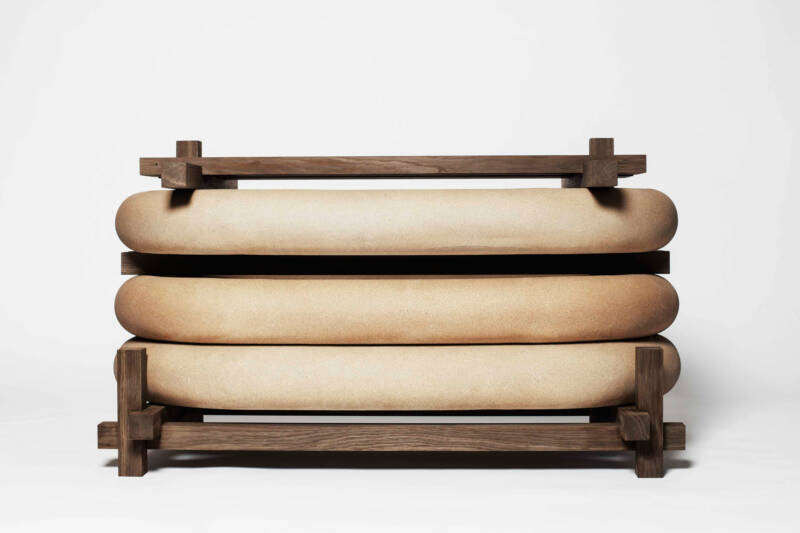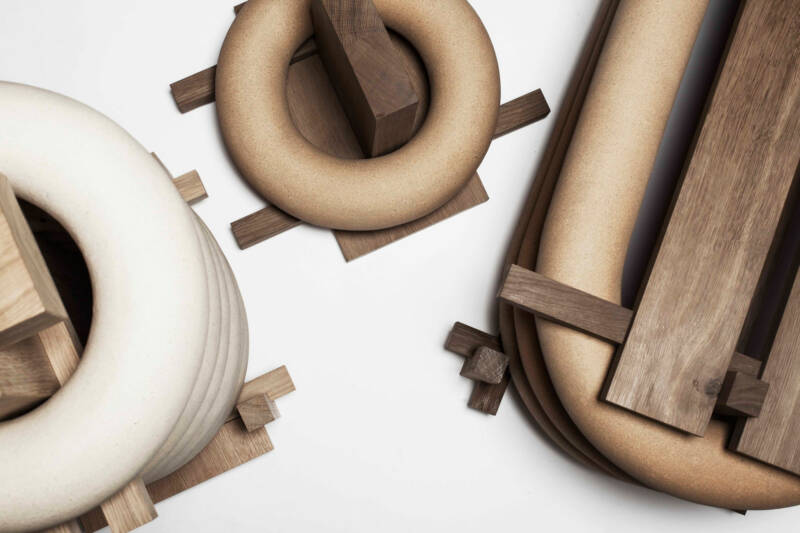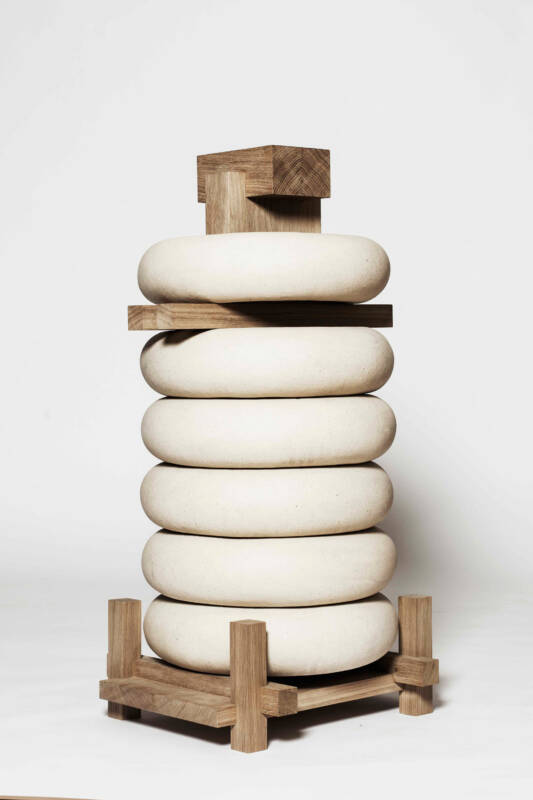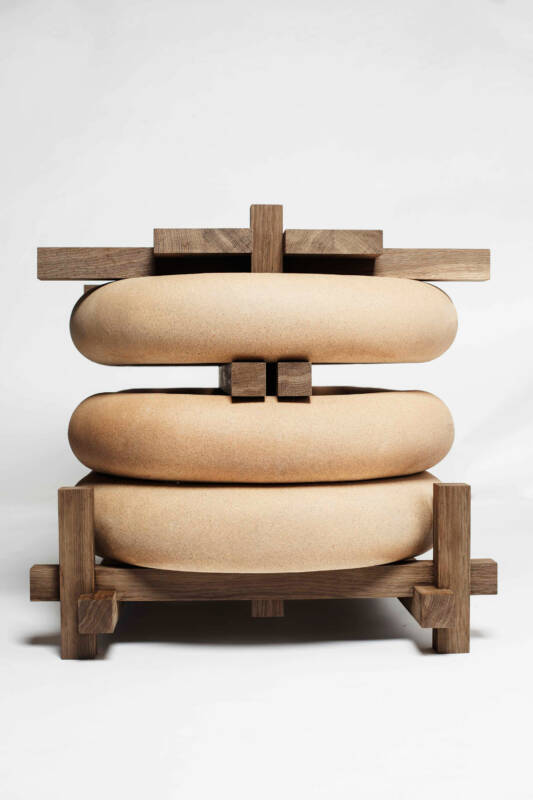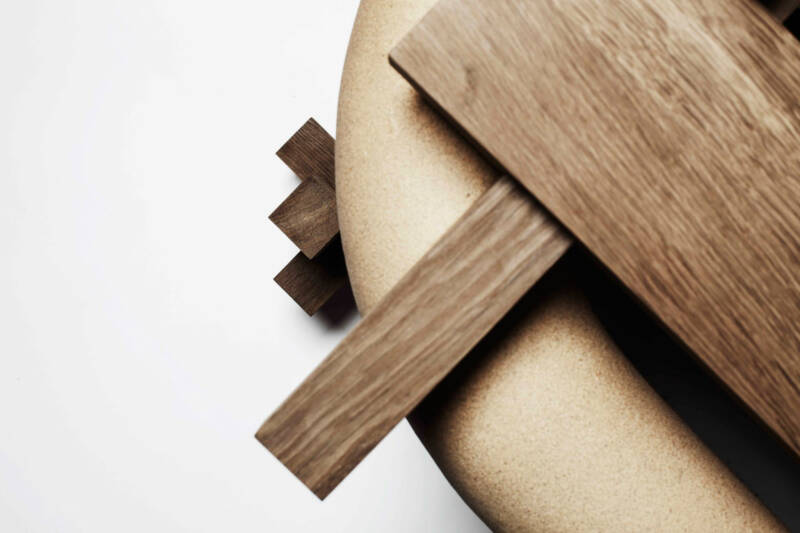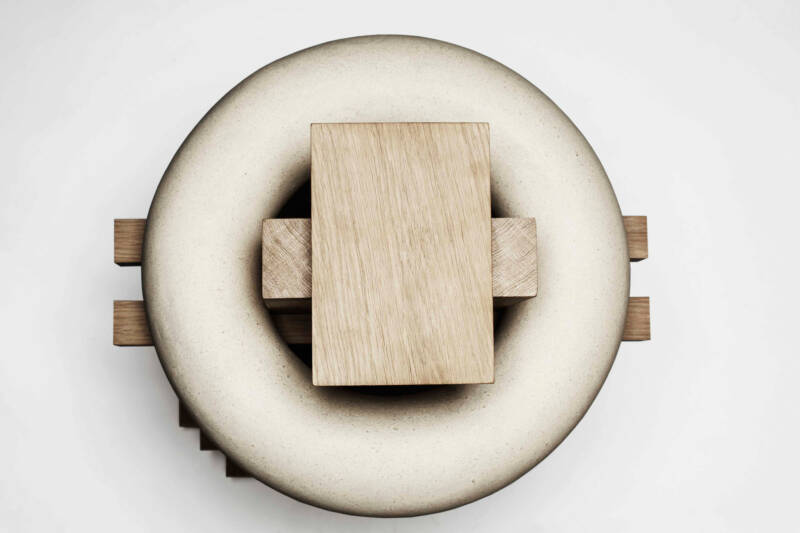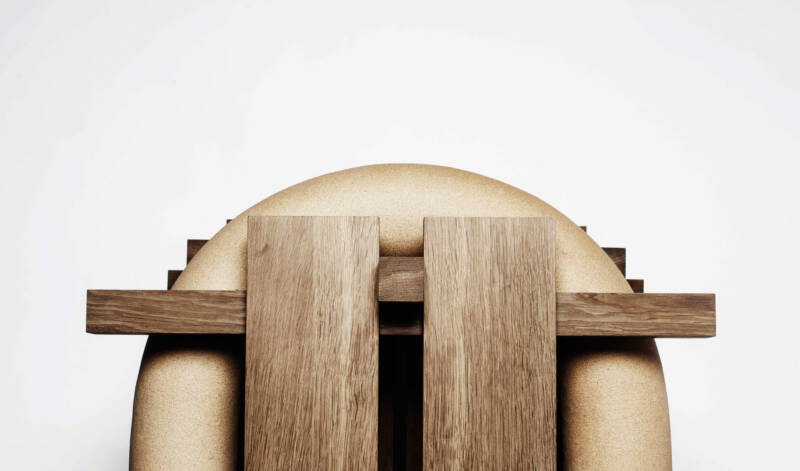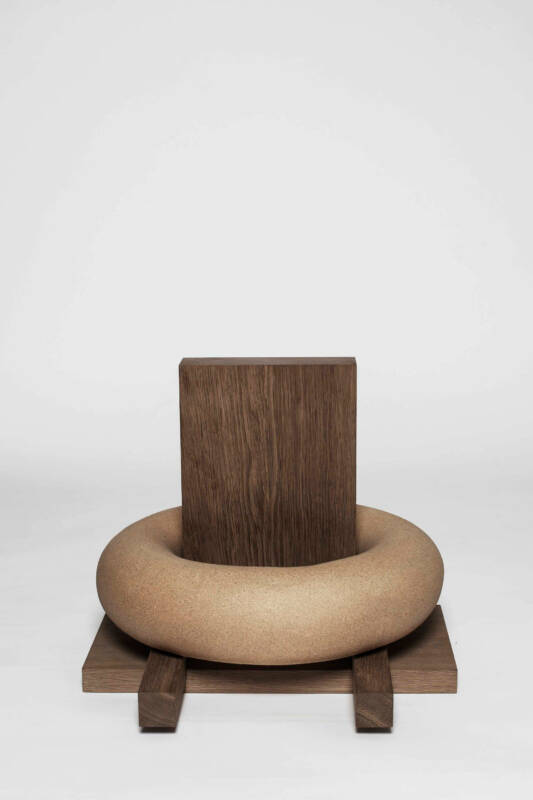 Heavy Stack is an experimental series of objects that explores the potentials of form, materials and aesthetics. The objects are made of hollow extruded ceramic rings stacked on top of each other, almost like bricks, around a load-bearing oak construction. The main structural inspiration came from architectural principles and structures, while the materials and the finish point more to furniture making and crafts. Thus, function is not the goal here but instead served as a source of inspiration for form, construction and materials.
The production process combines elements from industrial production and crafts: The ceramic rings were made on a brickworks extrusion machine fitted with a special nozzle, while the resulting tubes were shaped into circular or oval rings by hand. The series is part of the duo's ongoing exploration of the potentials of ceramic elements as a structural component in furniture, combined in this case with a new-found fascination with the process and potentials of extrusion.
Fragment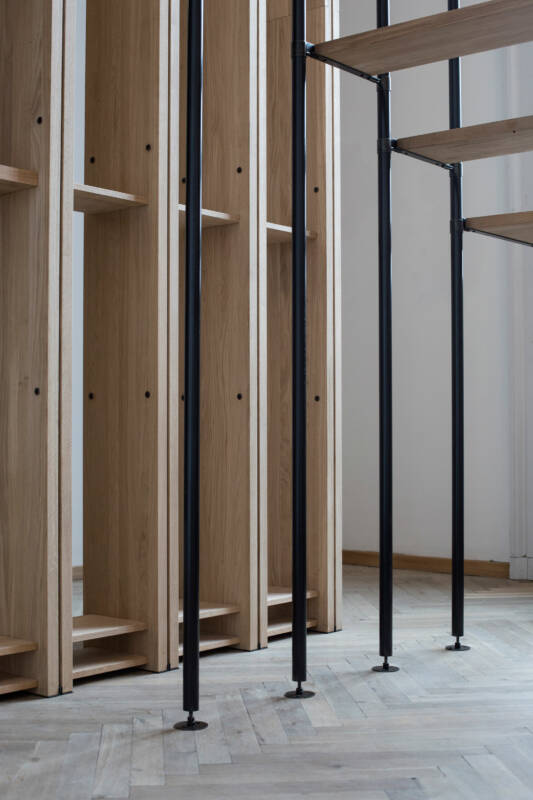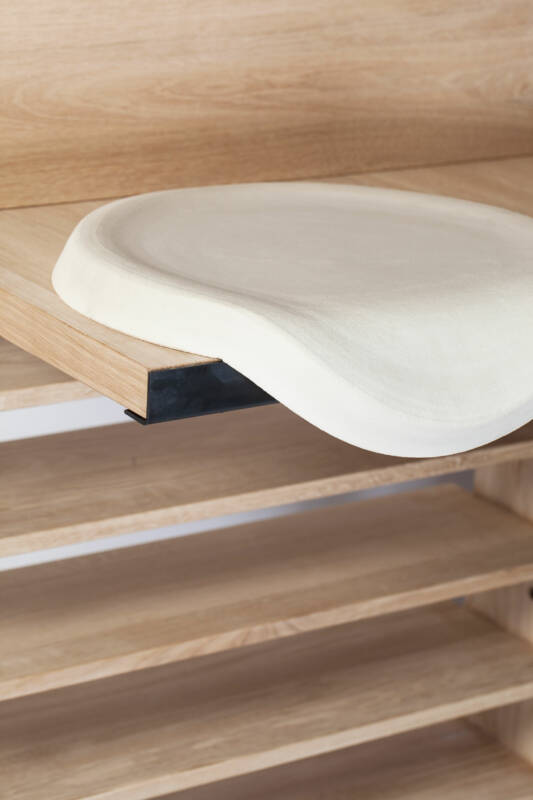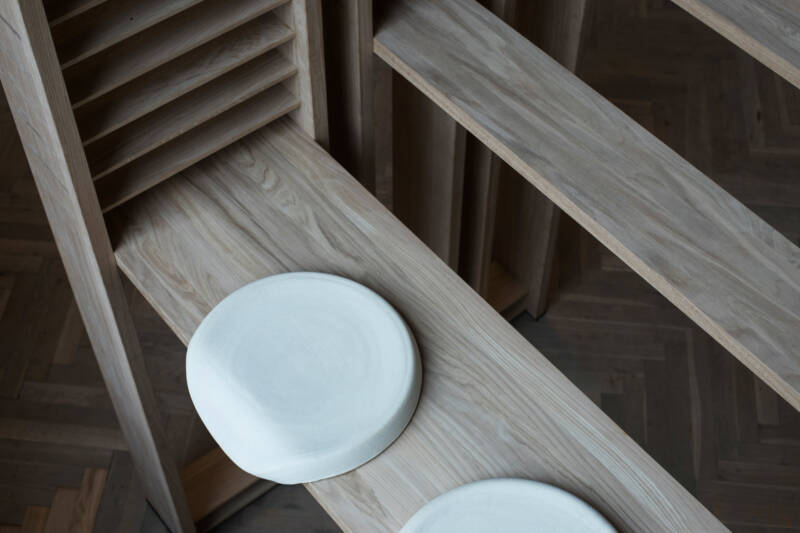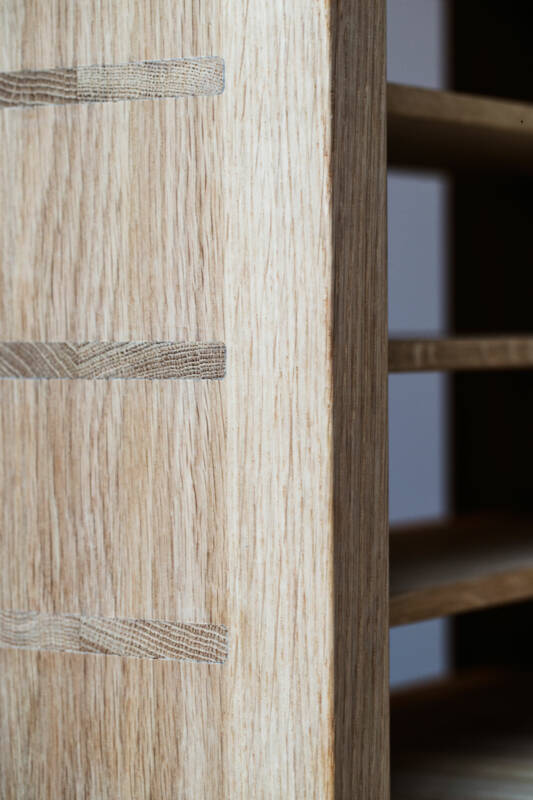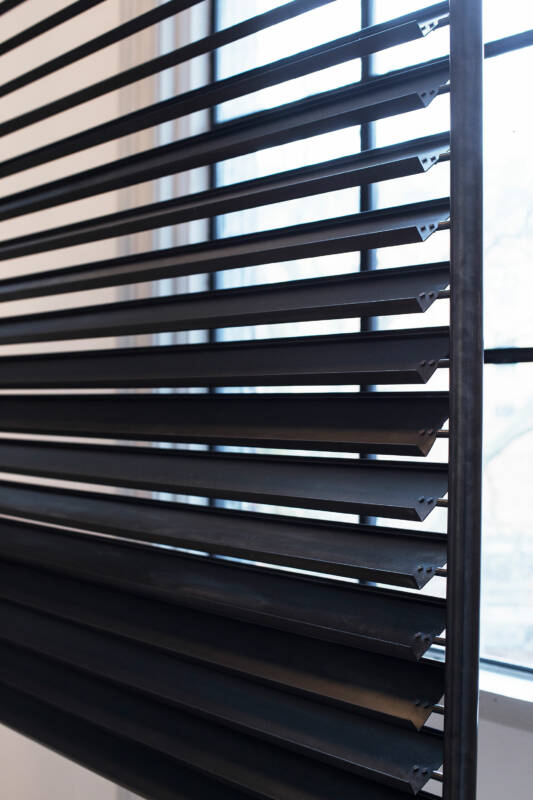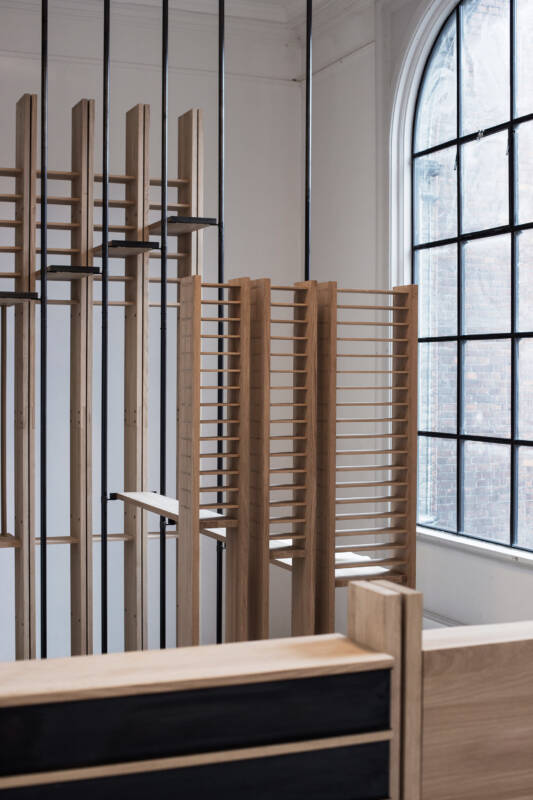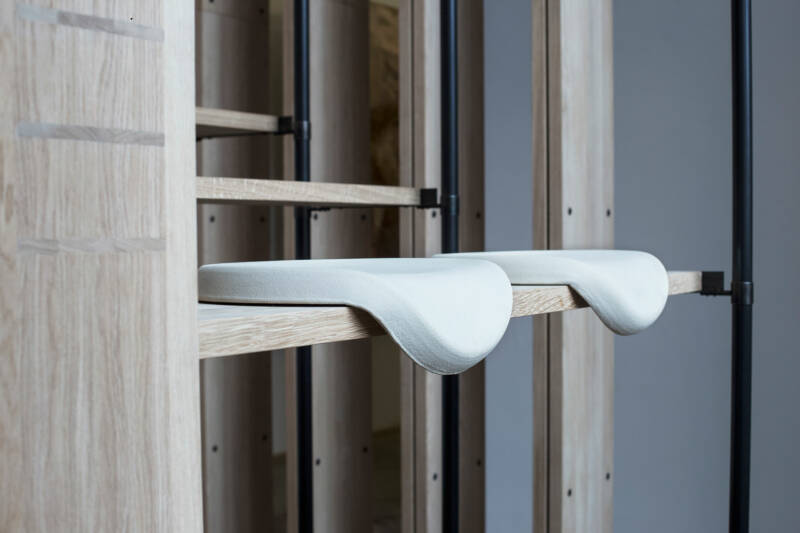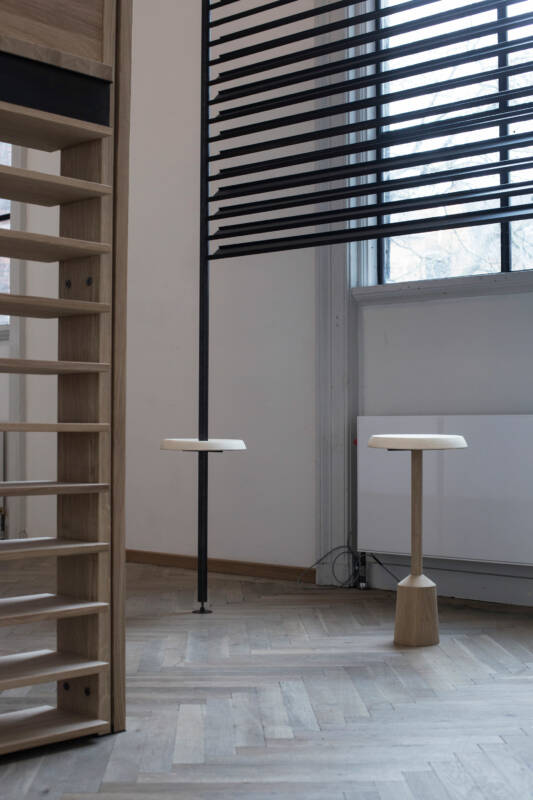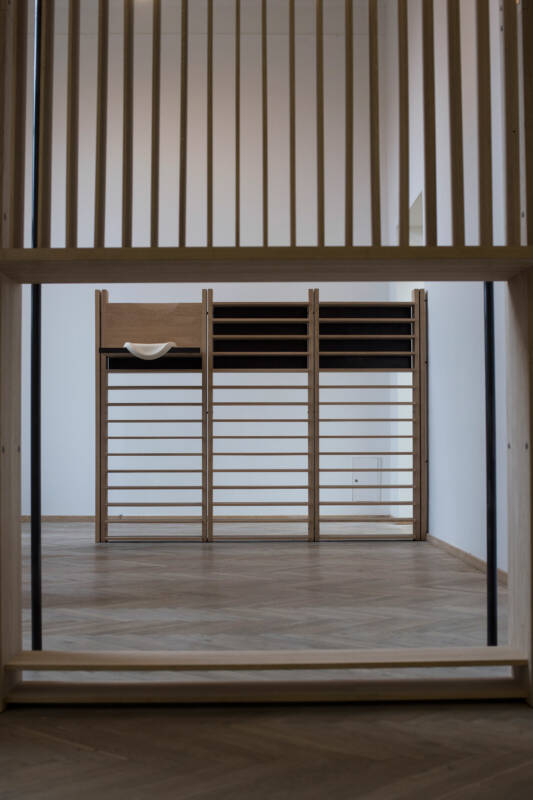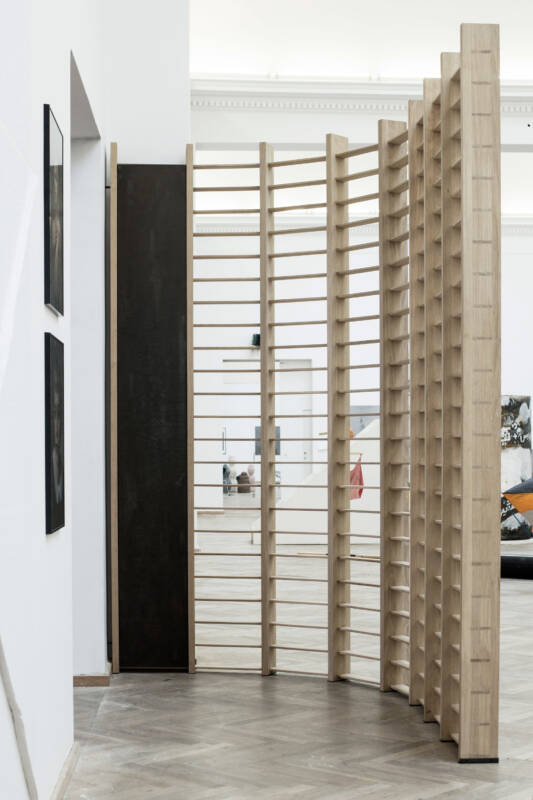 Architect, Anne Dorthe Vester and designer, Maria Bruun, have created an artistic space based on the form and pure aesthetics in their common practice. The work 'Fragment' is a continuation of the series, Objects of Use, the recipient of the jury's National Solo Award last year, which questioned our understanding and definition of furniture.
One of Kunsthal Charlottenborg's characteristic large rooms is the setting for the duo's most ambitious exhibition to-date, setting the stage for a special meeting between architecture, object and the body. Evoking a scenography backdrop of architectural models, the sculptures incorporate, reflect and interact directly with the room's pre-existing elements. The viewer's understanding of place and space is disrupted by an abstract sequence of wall structures, columns, surfaces, stairs, chairs and slats, that encourage movement, interaction, and reflection. Cumbersome passages and architectural fragments incite the audience to move through, pause, observe, reflect, and sit—both with their thoughts and on the unattainable stoneware seats. Central to the experience is how the work challenges and displaces the typical understanding of scale, proportions and depth – similarly to how one looks at the stairs on a silo.
Free of unnecessary ornamentation or decorative compositions, the focal point lies on the aesthetic and the matter used to compose them: oak, steel, stoneware, and their inherent qualities, illustrating how Anne Dorthe Vester and Maria Bruun constantly tests and challenge the relationship between their signature materials.
'Fragment' exists within a space of tension, a meeting point between an architectural spatial experiment, a free-form artistic study of material, and a compositional approach to the field of design. This multidimensional understanding allows the freedom to move within this field, a possibility with unlimited appeal and potential for Anne Dorthe Vester and Maria Bruun.
Materials
Stoneware, oak, burnished steel

Base Bench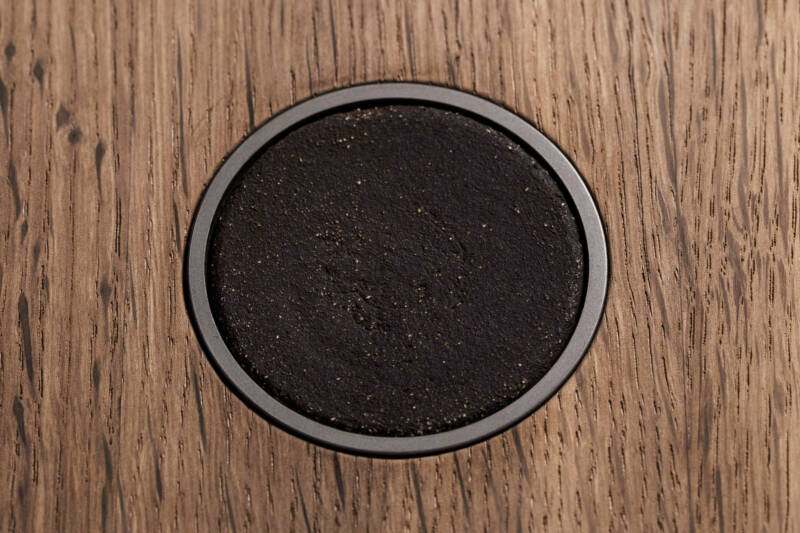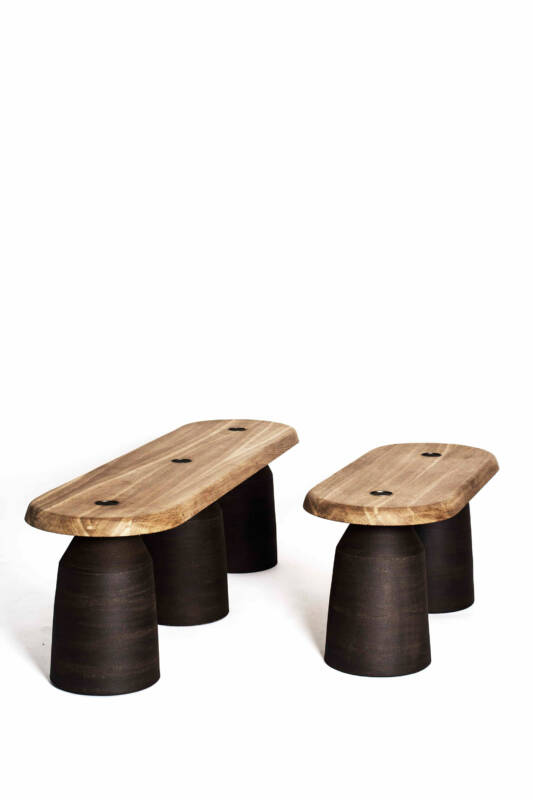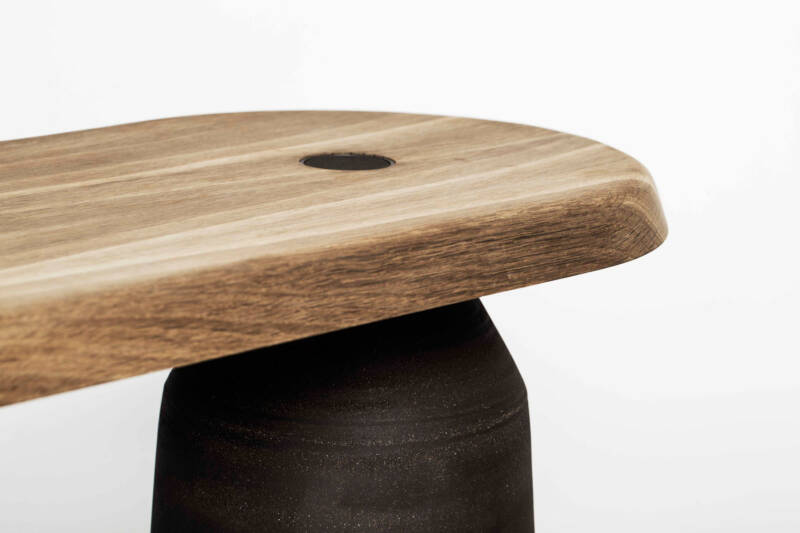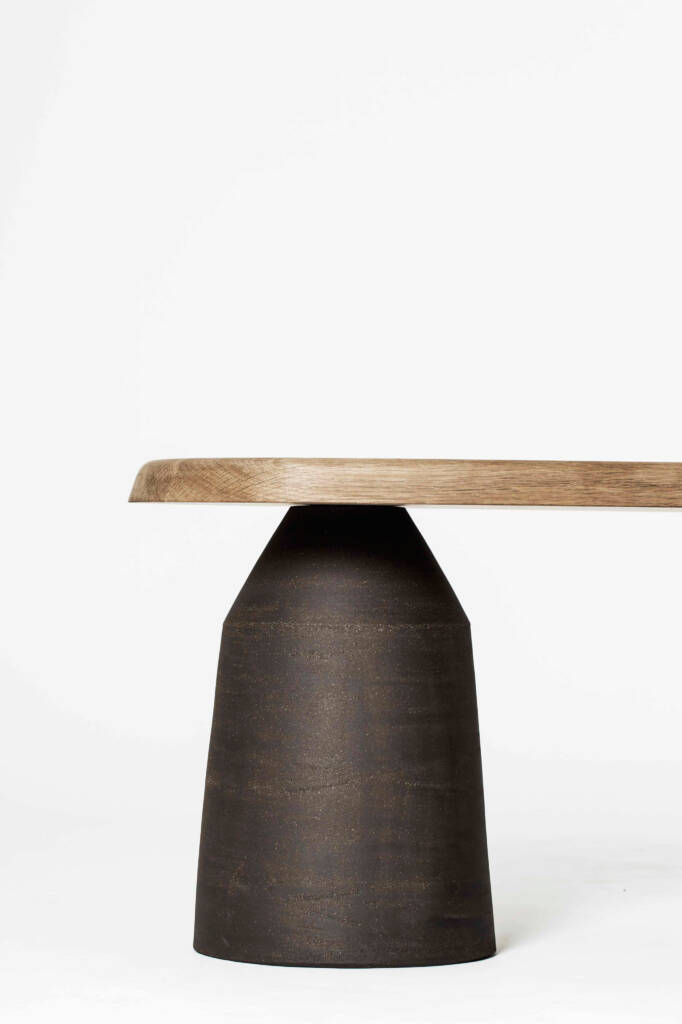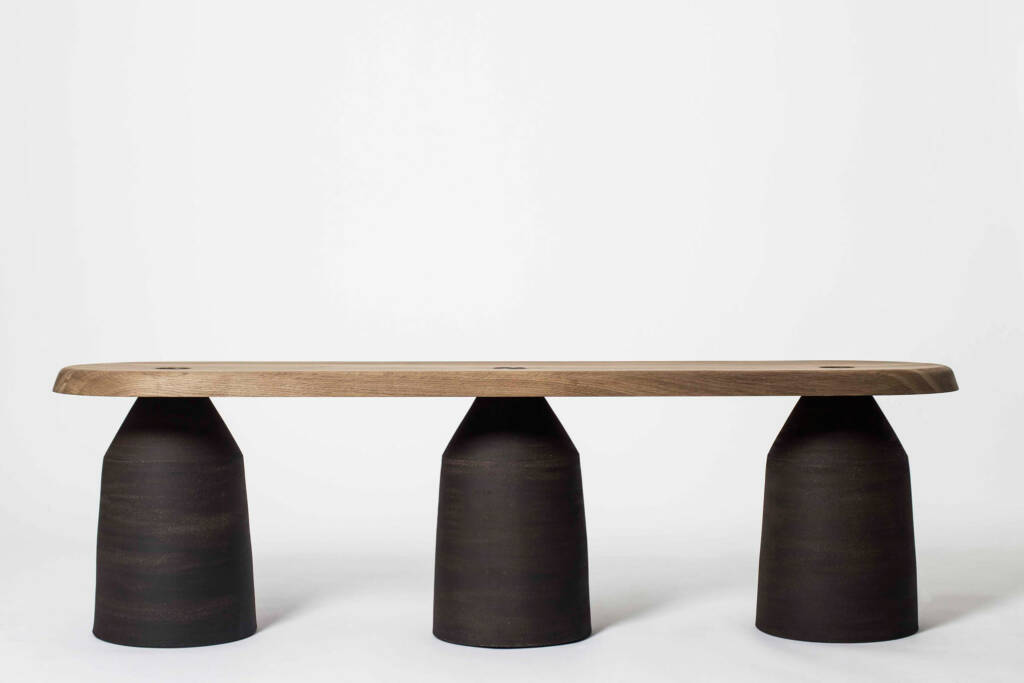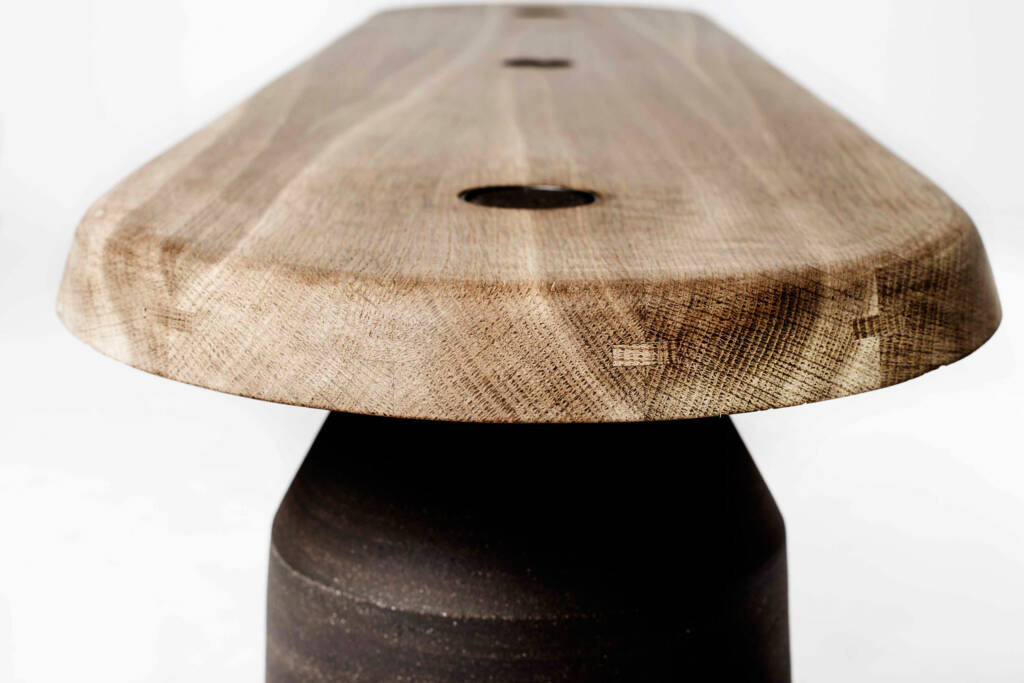 Base Bench was exhibited as part of the group exhibition HJEMLIGHED (homeliness) during the Biennale for Crafts and Design 2015, Copenhagen. Nine artisans, designers, architects and artists explored the home. Artifacts produced within arts and craft is often looked upon as objects which have a specific use and function and have therefore had their natural place within the home. This field of interest has however changed to incorporate a broader and more reflective artistic approach whose objects and ideas are often presented in the traditional exhibition space or gallery. In the exhibition the nine artisans, designers, architects and artists moved into a private apartment in Lavendelstræde 8, in central Copenhagen. For 20 days you were able to walk-in off of the street and explore how the exhibition blends in with the home.
Base Bench was created with the intention of gathering people around the dining table. In its gravity the bench appears grounded and fixed as a permanent element marking itself as a firmly established gathering place. Again we experimented with combination oak, stoneware and anodized aluminum.
2015
Materials
Smoked oak, anodized aluminum, stoneware

Objects of Use Vases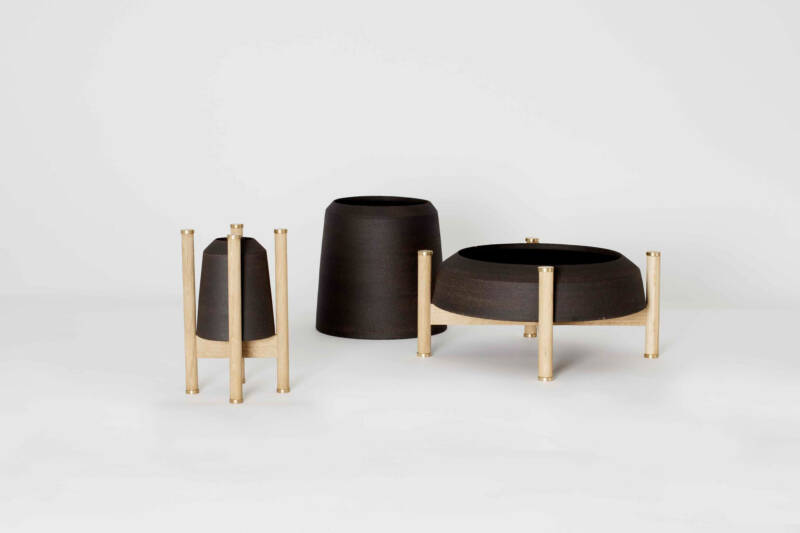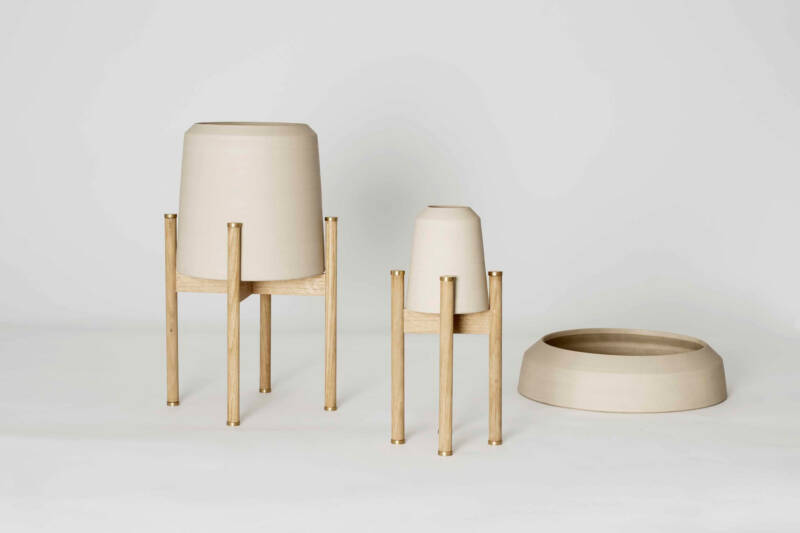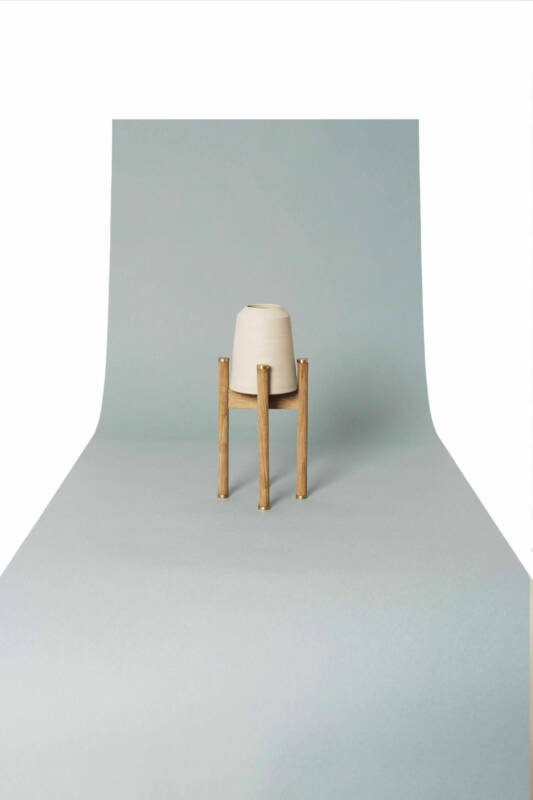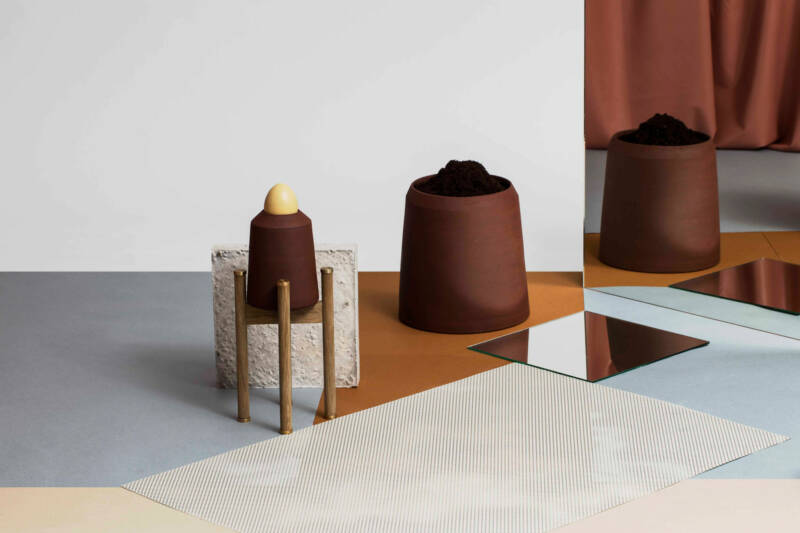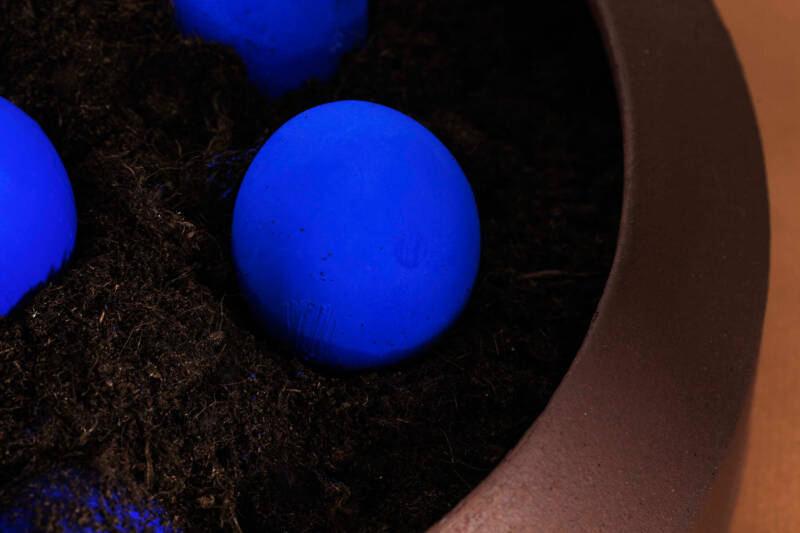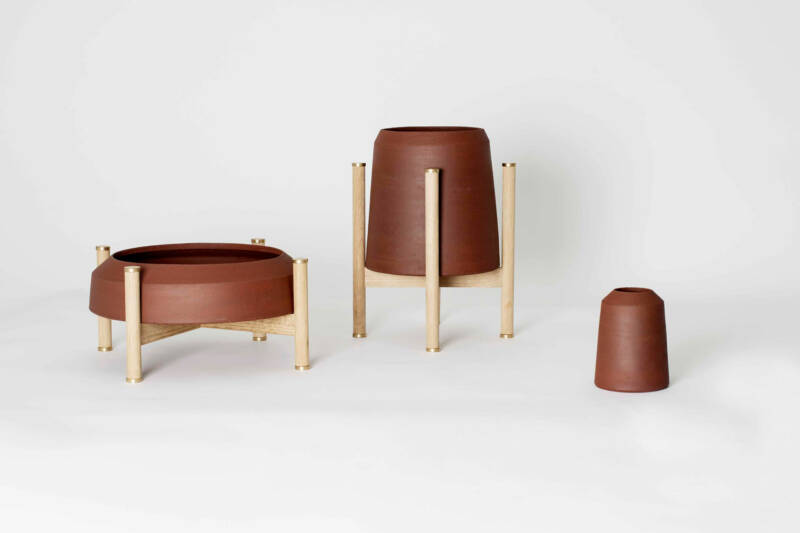 Object of Use Vases, is a series of bowls / vases / pots in three colors of stoneware. Each vase has a pedestal in oak, with brass cuffs. This can be turned upside down and has two use heights. The series is rethinking the plant pot, but with tangible references to the old classic. Objects of Use Vases is a small scale interpretation of Objects of Use. The ambition was to create a functional series of vases with the aesthetic and materials of its less functional predecessor – Objects of Use. We teamed up with set designer Pernille Andersen and photographer Benita Marcussen to produce a visual story about the series. In this collaboration, we gave the set designer and photographer total freedom to play and to carry out their creative visions for the Objects of Use Vases. The aim was to create the perfect scene to express and accentuate the story of the vases.
Objects of Use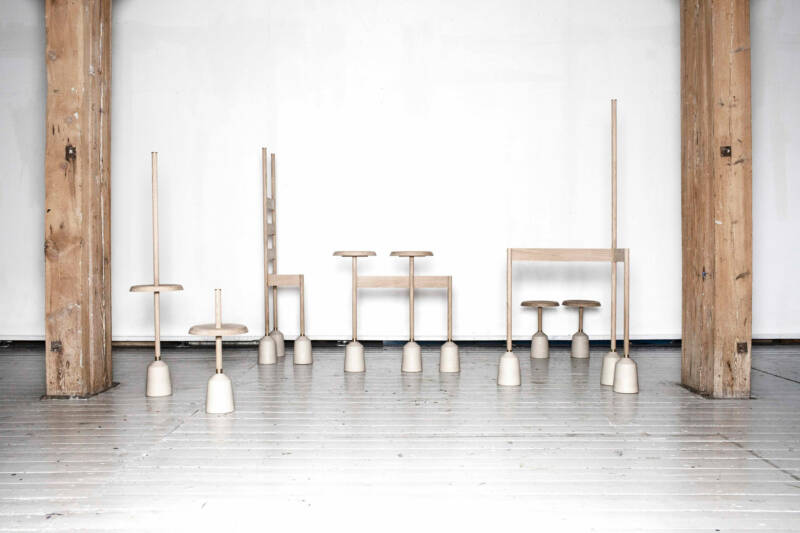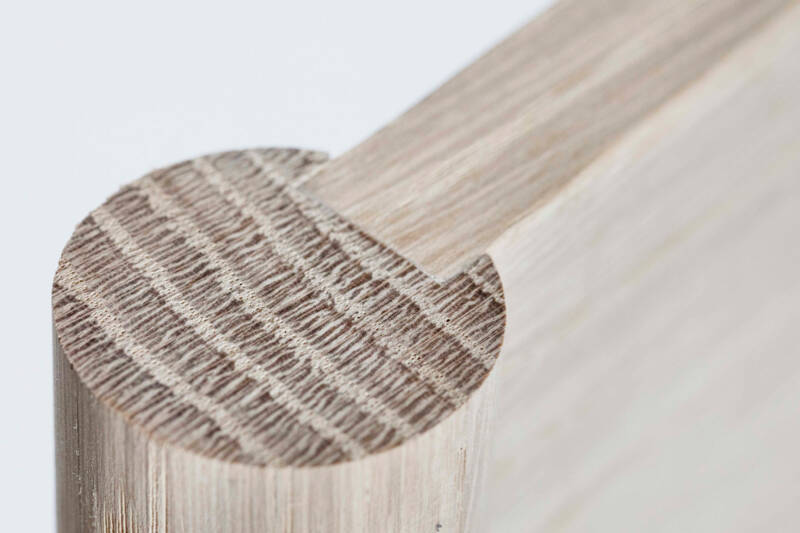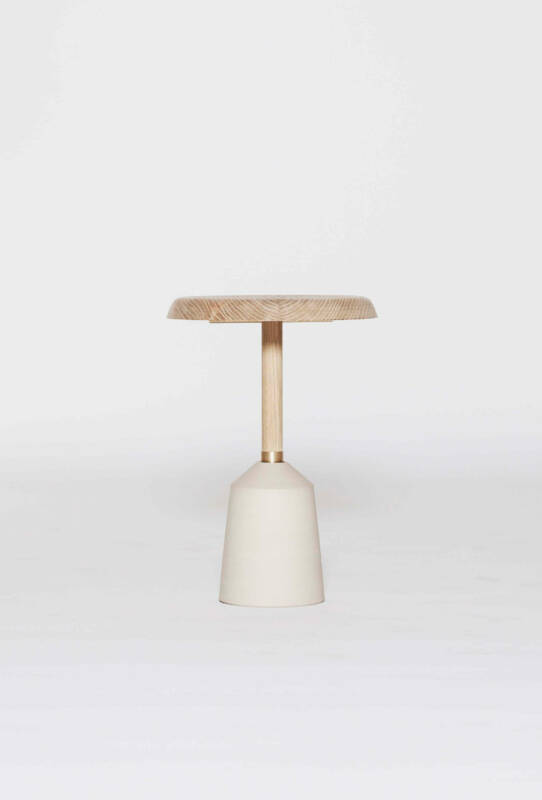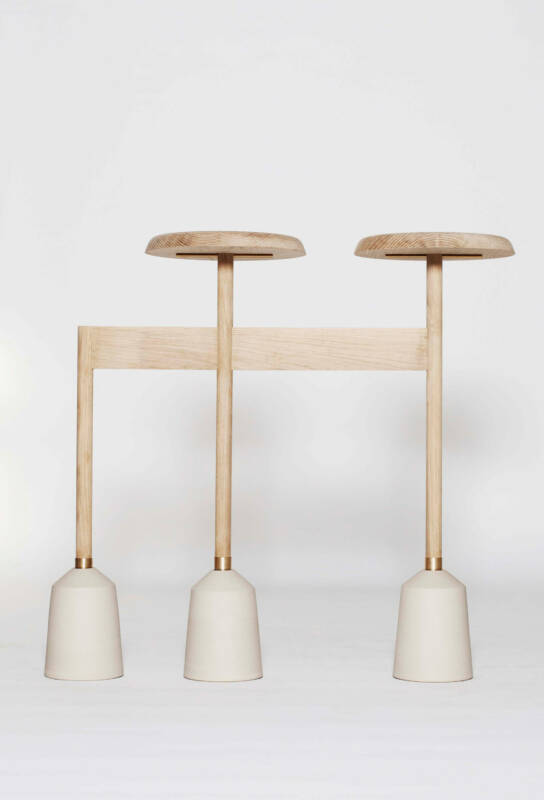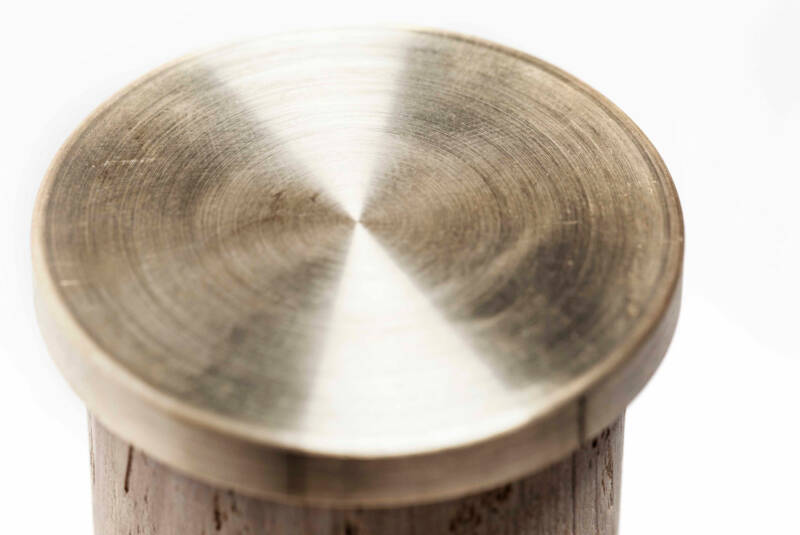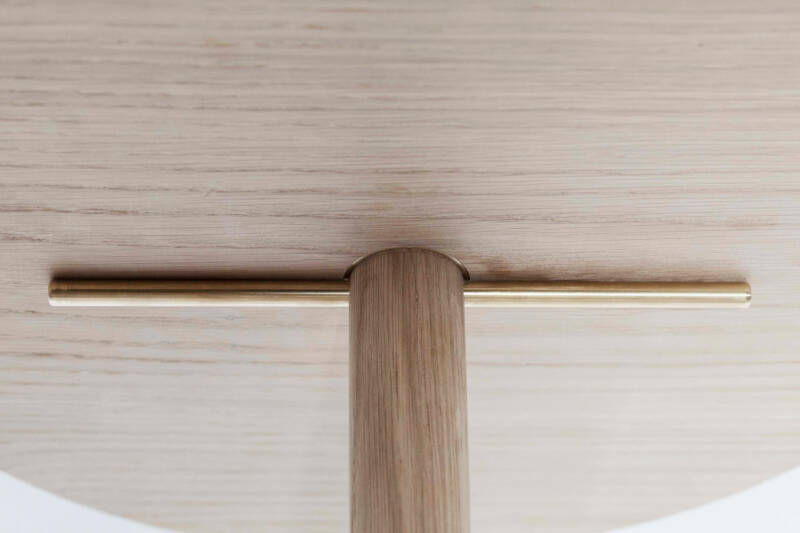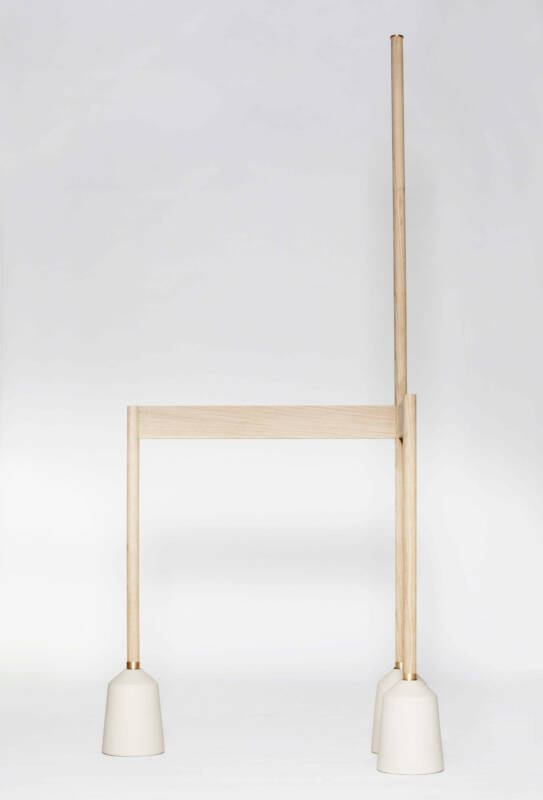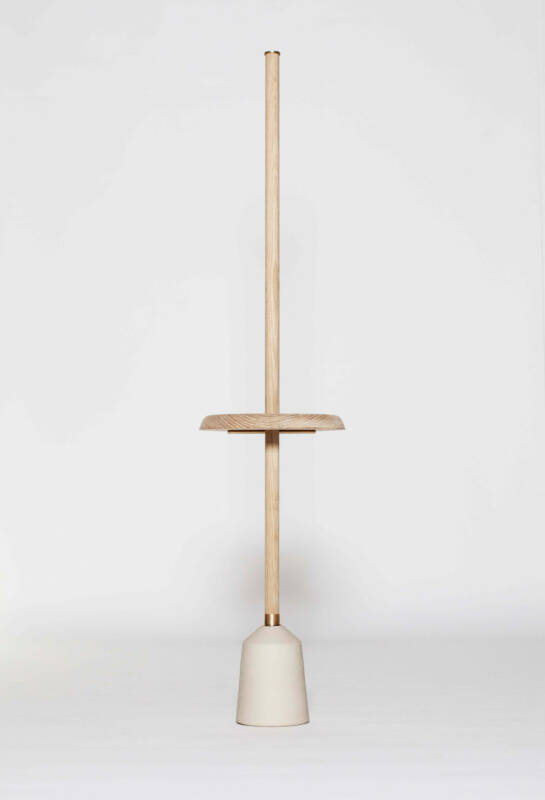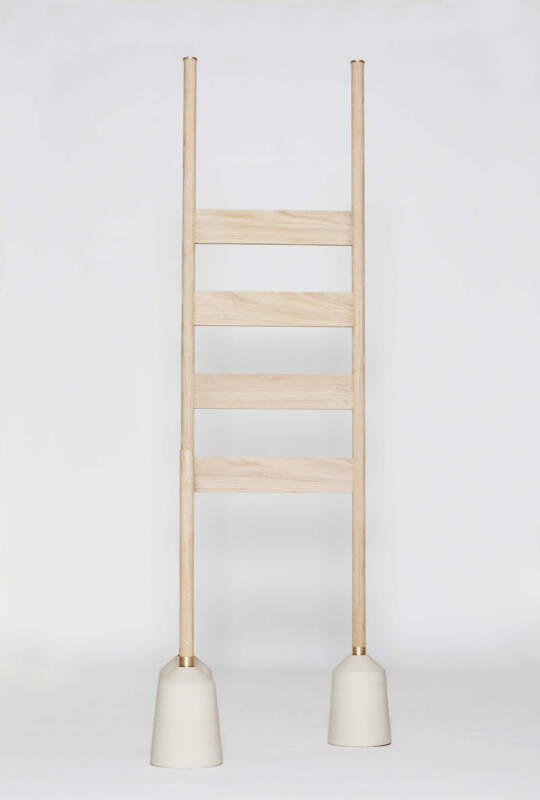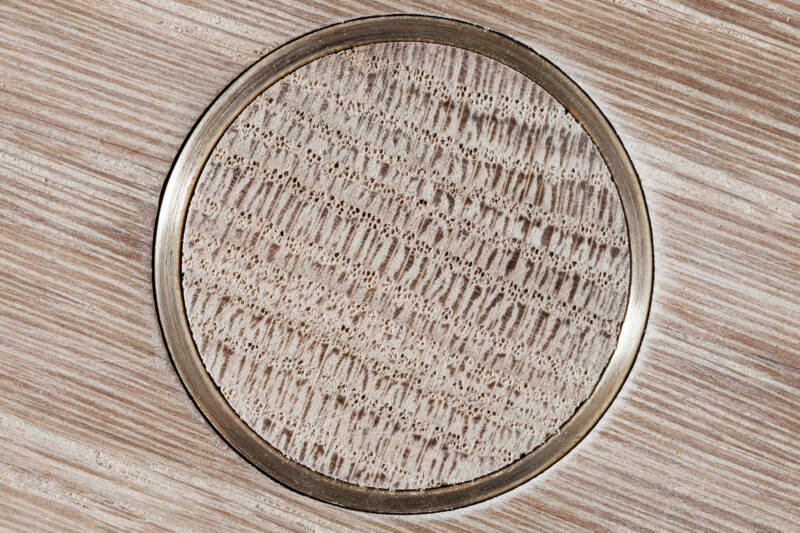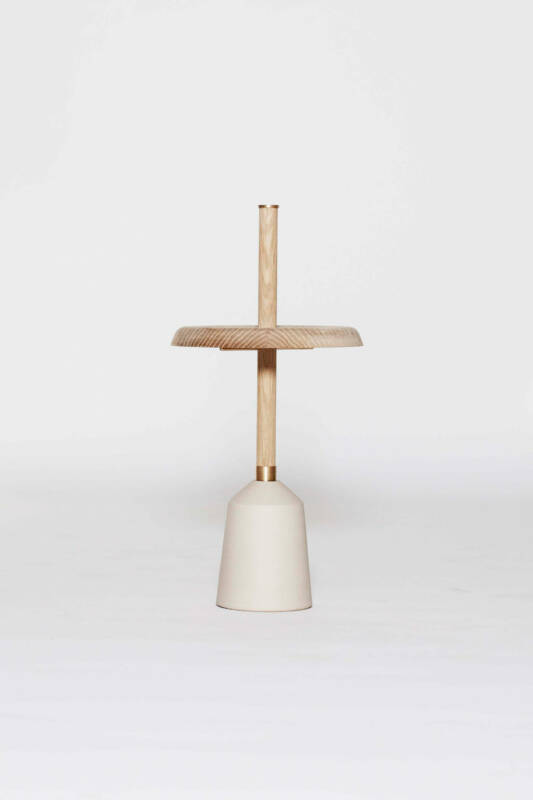 In 2014 we created the minimal functional series of furniture – or objects as we call them. The idea sprang mainly from our different backgrounds in architecture and design. The idea became to morph the two into a series of objects that challenged the users perception of space and function.
'Objects of use is the result of two worlds meeting. Two professions intertwining. Two people crossing, clashing and correlating. It is a borderland, a hybrid. A place to ask what constitutes architecture and what justifies the label of design.'
Objects of Use was first displayed in Copenhagen at the gallery Etage Projects. Our focus was on combining materials—oak, brass and stoneware—with a scenographic setup that challenged the viewers' perceptions and asked the question, "Is it art or is it furniture?" In spring 2015, this project received The National Solo Prize at the Spring Exhibition at Kunsthal Charlottenborg, Copenhagen.